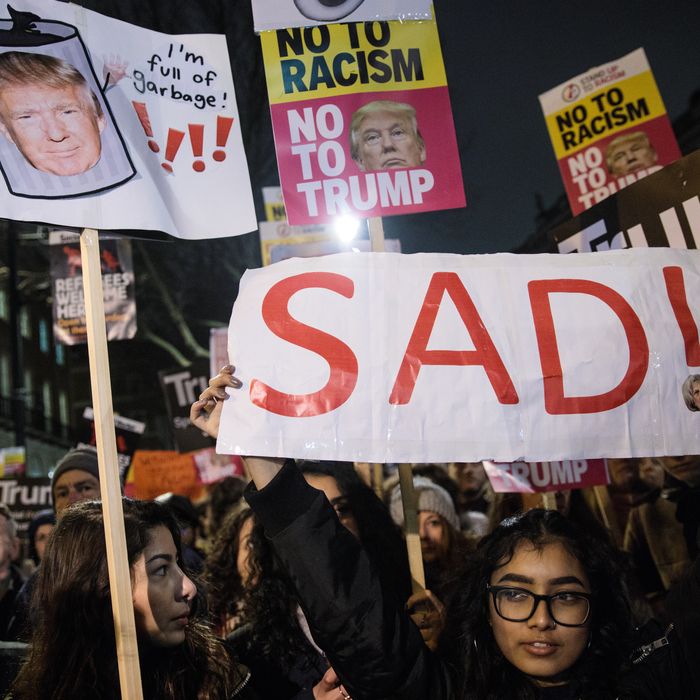 The White House is not eager to go back to this, for some reason.
Photo: Jack Taylor/Getty Images
In his speech to Congress on Tuesday night, President Trump defended his travel ban, and said his administration has been "working on improved vetting procedures, and we will shortly take new steps to keep our nation safe — and to keep out those who would do us harm."
The new executive order was expected on Wednesday, but now it won't be issued until the end of the week. When the initial travel ban was blocked by the court, Trump accused the judge of putting the country "in peril" and claimed "many very bad and dangerous people may be pouring into our country." Clearly, the president believes there's an urgent need for a new travel ban — but apparently it's not as urgent as his need for good press.
Late on Tuesday night, multiple outlets reported that the White House decided to hold off on issuing the new executive order after seeing the positive reviews for Trump's impersonation of a competent president. A senior administration official told CNN that they don't want to undercut coverage of the president's speech. "We want the (executive order) to have its own 'moment,'" the official said.

No other reasons were offered for the delay, but one factor may be a Department of Homeland Security report that contradicted the White House, saying citizenship in one of the seven Muslim-majority countries included in the ban is "unlikely to be a reliable indicator of potential terrorist activity."
The White House dismissed that report, and it appears Iraq is the only country that may be removed from the list. According to the AP, the Pentagon and State Department pushed to omit Iraq due to the country's role in fighting ISIS.
The Wall Street Journal reports that the new executive order will be toned down in a number of other ways. It's expected to only apply to future visa applicants from the seven (or six) countries, not legal permanent residents or current visa holders. The ban on refugees will likely be revised as well, dropping the provision giving preference to religious minorities, and treating Syrian refugees like those from other countries.
The new executive order is being crafted to avoid violating constitutional protections against religious discrimination, and, as Reuters notes, excluding legal permanent residents may make it harder for the order's opponents to show they have standing in U.S. courts. However, several legal experts predict the revised order will spark a new batch of legal challenges, whenever it's actually issued.
"Exempting lawful permanent residents and current visa holders will not cure the core legal problem — that the ban was motivated by religious discrimination, as evidenced by the president's repeated statements calling for a Muslim ban," ACLU attorney Lee Gelernt told CNN. "That discriminatory taint cannot be removed simply by eliminating a few words or clever tinkering by lawyers."