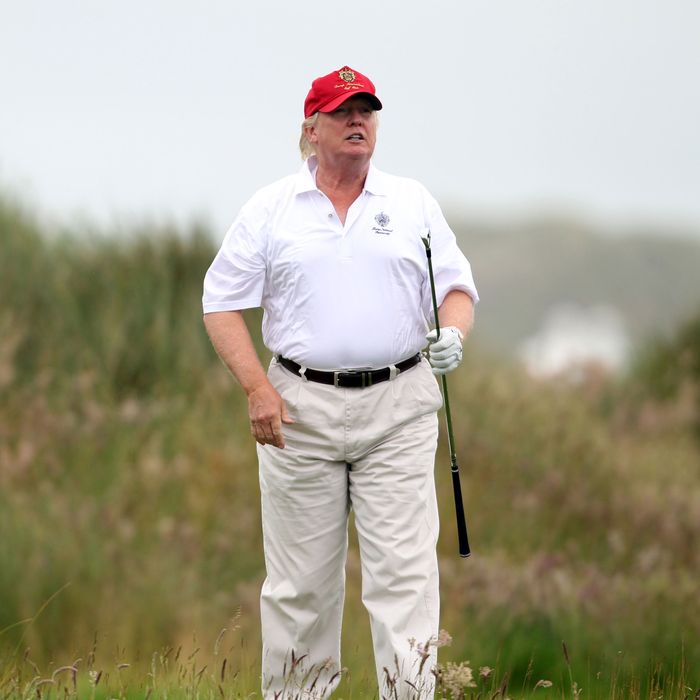 "Perfect genes."
Photo: Ian MacNicol/Getty Images
President Trump, who has weird hair, comically small hands, and is probably the third-fattest president to ever occupy the White House, also happens to have "perfect genes," Treasury Secretary Steve Mnuchin said in a Friday interview full of newsworthy quotes, though none quite as bizarre as that one.
Speaking with Mike Allen of Axios, Mnuchin praised Trump for his "stamina" and for "constantly doing things." When Allen asked how he's so energetic given his horrendous diet and aversion to exercise, Mnuchin made the remark about his genes, which silenced the laughing crowd in an instant.
Mnuchin also revealed in the interview that Trump has put aside his fast-food habit since entering the White House. "He doesn't eat KFC anymore and McDonald's," Mnuchin said. "There is great food there. Let me tell you the chefs there are great!" So great that, as we've learned from previous reports, Trump eats virtually nothing but meatloaf.
The secretary, who's a Hollywood producer with a hand in this year's Lego Batman, also toyed around with an ethics violation in the interview. After prefacing his comment by acknowledging that he's "not allowed to promote anything that I'm involved in," Mnuchin went on to do exactly that.
"You should send all your kids to Lego Batman," he said. Calls for an investigation have already begun.