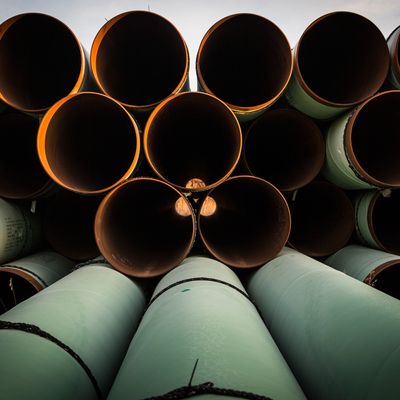 Photo: Andrew Burton/Getty Images
One of President Trump's first orders of business when he took office included an executive order reviving the Dakota Access Pipeline and Keystone XL Pipeline. Oil is expected to start flowing through the Dakota Access Pipeline this week, even as legal challenges continue. And now the administration will set in motion the construction of the 1,200-mile-long Keystone XL pipeline, the permit for which President Obama had rejected.
According to the Reuters, the State Department's undersecretary of political affairs will approve the permit as early as Friday. (Rex Tillerson is sitting this one out for a legit reason; he recused himself because of his former role as ExxonMobil CEO.) TransCanada had initially proposed the approximately $8 billion project way back in 2008; the pipeline is expected to move about 830,000 barrels of crude oil per day from Canada's oil sands to refineries on the Gulf Coast. It became a political flashpoint in the process, with Republicans gunning for its construction and jobs-making ability, while its opponents tried to scuttle it because of environmental reasons.
Keystone XL will still face legal challenges and lawsuits, but by approving the permit, the State Department gives the federal government's okay. The rest of the battles will play out on the local and state level, including in Nebraska, which still hasn't approved the project. (The pipeline would run through the state.)
Trump may get the Keystone XL built after nearly a decade — but it probably won't be constructed entirely with American steel, as the president appears to have outlined in a memo on the same day he revived the two stalled pipeline projects and continues to promise.