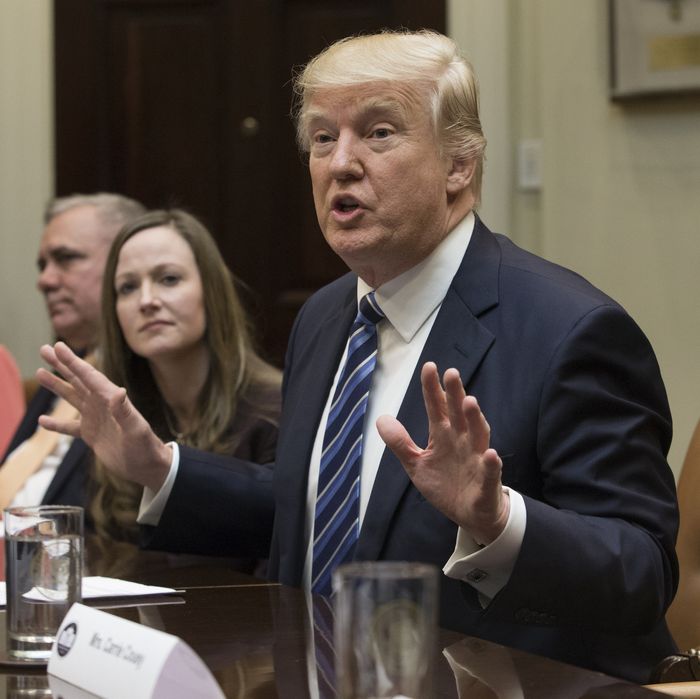 Photo: Bloomberg/Bloomberg via Getty Images
Last week, the New York Times said that, according to their analysis, the Americans set to lose the most in tax credits under the Republican health-care plan tended to be Trump voters. "The plan would hit older and rural Americans hardest because it wouldn't provide a larger tax credit to people with more expensive plans," the Times' Upshot blog explained.
The Congressional Budget Office also estimated that the American Health Care Act would reduce Medicaid spending by $880 billion, though Trump repeatedly promised no cuts to the program when battling his primary opponents, as the Washington Post noted.
So while the AHCA may fulfill Trump's vow to destroy Obamacare immediately, it violates most of the other health-care promises he made to his voters — and there's no way to spin that as "fake news." A recent Breitbart headline blared "7 Reasons Why Obamacare 2.0 Is All But Guaranteed to Impose Crushing Costs on Voters, Hurt Trump's Base, and Hand Power Back to the Democrats."
Tucker Carlson raised this point with President Trump during a Fox News interview on Wednesday night. "I know that, I know," the president said, as the host cited Bloomberg's finding that Trump-supporting counties would be hammered. "It's very preliminary."
"This isn't consistent with the message of the last election," Carlson said. "No, a lot of things aren't consistent," Trump acknowledged. "But these are going to be negotiated. We've got to go to the Senate. We're going to see what happens in the Senate. Now right now, we have five or six senators that look like maybe they're not going to — I'm talking about Republicans, because we're not going to get one Democrat to vote for it."
Trump repeatedly circled back to the point that Democrats wouldn't vote for the AHCA, calling them "selfish" and "stupid." "If this bill were perfect, if it was the greatest thing for Democrats and Republicans, we wouldn't get one Democrat vote," he claimed.
That could be seen as laying the groundwork for the health-care backup plan Trump was reportedly talking about just last week: abandoning efforts to replace Obamacare, and blaming the Democrats once the health-care system collapses.
It looks increasingly unlikely that the AHCA will pass in its current form. "We're confident tonight that there are not the votes to modify this current bill to make it acceptable to conservatives and moderates alike," Representative Mark Meadows, chairman of the conservative Freedom Caucus, said on Wednesday night.
Even Speaker Paul Ryan acknowledged on Wednesday that the bill wouldn't make it out of the House without significant changes. While he previously called AHCA a "binary choice," now he says leaders will "incorporate feedback" from lawmakers. "Now that we have our score, we can make some necessary improvements and refinements to the bill," he said.

Trump hasn't abandoned the legislation just yet. He told Carlson he's acting as the "arbitrator" between different Republican factions, but the self-proclaimed expert dealmaker doesn't appear to be relishing that role.
"I want to get to taxes, I want to cut the hell out of taxes," Trump said during a rally in Nashville on Wednesday. "But before I can do that — I would have loved to have put it first, I'll be honest — there is one more very important thing that we have to do: We are going to repeal and replace the horrible, disastrous Obamacare."
Still, Trump suggested that he won't accept legislation that hurts Americans as much as the AHCA would, even if it means he could move on to other parts of his agenda. "If we're not going to take care of the people, I'm not signing anything," he told Carlson. "I'm not going to be doing it, just so you understand."