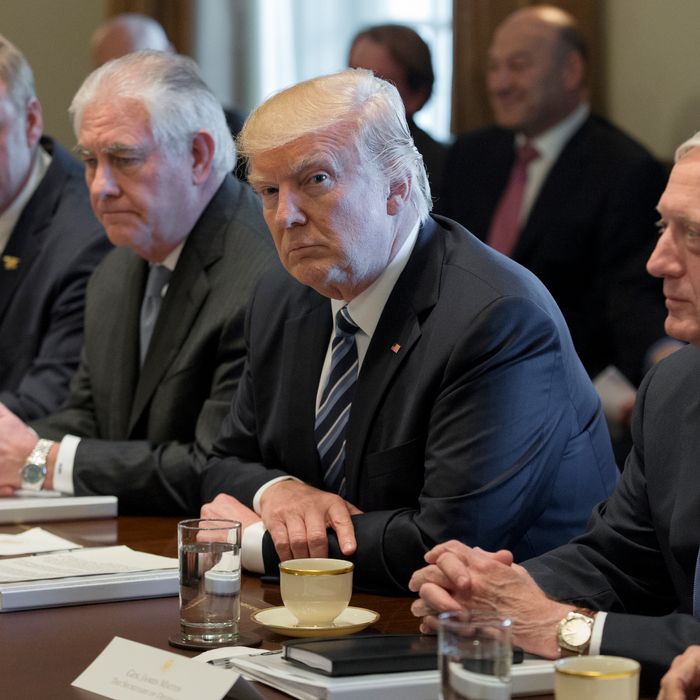 As President Trump recently reminded us, when someone has been disloyal to him, he never forgets it. But now that he's president, it's become more difficult to keep track of those who have defied him — or who may potentially defy him. That's why, according to the Washington Post, Trump has embedded political appointees in every cabinet agency and tasked them with keeping tabs on the secretaries' fealty to the president. Unsurprisingly, this is not going over well with some cabinet members.
The Post is not the first to note the existence of these monitors. Last month, Politico reported that the Trump administration had created the new position of "senior White House adviser" within each agency, placing many former campaign aides in those jobs. Records obtained by ProPublica show that there are at least 16 of these advisers, with Trump loyalists stationed in all the major departments, as well as in some smaller agencies, such as NASA.
There's some disagreement over who the advisers answer to. The Post says they report to the Office of Cabinet Affairs, which is overseen by White House deputy chief of staff Rick Dearborn. An anonymous White House official said the advisers technically report to the head of each agency, but the White House would not discuss the matter on the record.
The advisers' ostensible mission is to act as a go-between on policy issues for the White House and the agencies, but eight officials tell the Post their primary task is to make sure agency staffers are carrying out the president's agenda. Concerns about the president's authority over the executive branch are not unusual, but no recent president has had such an arrangement.
As New York's Ed Kilgore noted last month, "People like that can be described as political commissars, to use the term made famous in the Soviet Union for the agents sent to impose ideological discipline, particularly in military units." Sure enough, the former Marine and fighter pilot assigned to Defense Secretary Jim Mattis is privately referred to as "the commissar" within the Pentagon.
But the attitude toward the senior White House advisers varies by agency. Aides at the Departments of Transportation and the Interior described the advisers as part of their teams, and some advisers are picking up the slack in understaffed departments. However, Environmental Protection Agency administrator Scott Pruitt has reportedly banned former Washington state senator Don Benton, who ran Trump's Washington state campaign, from meetings. Per the Post:
These officials said Benton piped up so frequently during policy discussions that he had been disinvited from many of them. One of the officials described the situation as akin to an episode of the HBO comedy series Veep.
Behaving like a member of Selina Meyer's team doesn't sound so bad when the alternative is an episode out of Soviet history.