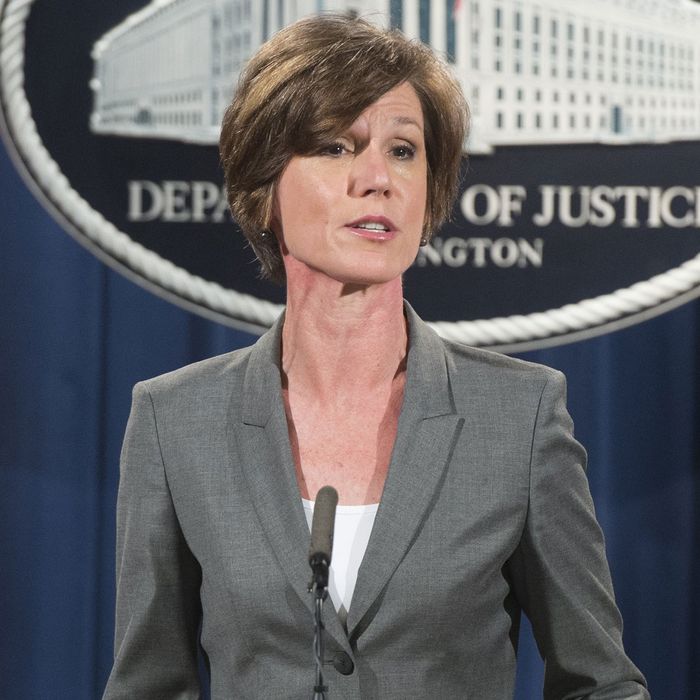 Sally Yates.
Photo: Saul Loeb/AFP/Getty Images
Sally Yates's tenure as the Trump administration's acting attorney general was short-lived but eventful. A holdover from the Obama Justice Department, Yates didn't make it two weeks before she was dismissed for refusing to defend Trump's first travel ban. But before she departed, she warned White House counsel Donald McGahn that National Security Adviser Michael Flynn had misled his superiors about his preelection conversation with the Russian ambassador to the United States. Weeks later, word of that warning leaked to the press — and Flynn promptly resigned.
Earlier this month, the House Intelligence Committee invited Yates to share her account of those developments, in an open hearing on the Putin government's alleged interference in the 2016 election. Such testimony might conceivably touch on why the Trump administration waited weeks after Yates's warning to oust Flynn.
Yates accepted the committee's invitation.
Then, the Trump administration informed her that she would need to clear her testimony with the president, according to documents obtained by the Washington Post.
"The Department of Justice has advised that it believes there are further constraints on the testimony Ms. Yates may provide at the hearing," Yates's attorney David O'Neil wrote in a March 23 letter to Acting Assistant Attorney General Samuel Ramer. "Generally, we understand that the department takes the position that all information Ms. Yates received or actions she took in her capacity as Deputy Attorney General and acting Attorney General are client confidences that she may not disclose absent written consent of the department."
O'Neil rejected this assessment as "overbroad, incorrect, and inconsistent with the department's historical approach to the congressional testimony of current and former officials."
"In particular, we believe that Ms. Yates should not be obligated to refuse to provide non-classified facts about the department's notification to the White House of concerns about the conduct of a senior official," the letter continued. "Requiring Ms. Yates to refuse to provide such information is particularly untenable given that multiple senior administration officials have publicly described the same events.''
Here's how the Justice Department responded, according to the Post:
Scott Schools, another Justice Department official, replied in a letter the following day, saying the conversations with the White House "are likely covered by the presidential communications privilege and possibly the deliberative process privilege. The president owns those privileges. Therefore, to the extent Ms. Yates needs consent to disclose the details of those communications to [the intelligence panel], she needs to consult with the White House. She need not obtain separate consent from the department.''
National security blogger Marcy Wheeler argues the Justice Department has no case here — unless Trump was involved in some shady business:
[T]he claim that Yates' conversations with McGahn should be covered by Executive Privilege is a stretch. Just by way of precedent, in 2007, Jim Comey testified about his conversations with White House Counsel Alberto Gonzales while serving as Acting Attorney General.

That is, Yates' conversation should not be covered by Executive Privilege unless Trump is claiming he was involved in hiding this information from Mike Pence.
Last Friday, Yates's attorney reiterated her rejection of the DOJ's analysis, and affirmed that she intended to testify at an open hearing scheduled for this Tuesday. By that point, Yates had also informed government officials that her testimony would probably contradict some statements made by the Trump administration.
That same day, House Intelligence Committee Chair Devin Nunes canceled Yates's hearing.
On Tuesday, the White House denied that it had taken "any action to prevent Sally Yates from testifying." Ostensibly, the White House does not consider warning Yates that her testimony would be illegal — absent the president's consent — as such an action.
Regardless, the Trump administration appears to have discouraged Yates from testifying. Yates insisted on doing so, anyway. And then Nunes canceled the hearing where she was scheduled to speak.
When Nunes made that decision last week, his committee's ranking Democrat accused him of trying to "choke off public info."
Earlier that week, James Comey had testified that the FBI was investigating potential ties between the Trump campaign and the Russian government. The following night Nunes met with an anonymous source on White House grounds, where he reviewed intelligence reports that allegedly included the unmasked names of Trump transition officials who had been incidentally surveilled. Nunes went public with those findings the next day — before briefing his fellow committee members on the intelligence he'd discovered. He proceeded to personally brief the president — an ostensible subject of his House investigation — on the intelligence reports that he had seen.
These actions spurred calls for Nunes to recuse himself from the Russia investigation on Monday.
The fact that Nunes appears to have canceled a hearing — that the White House wished to prevent — has further undermined the GOP lawmaker's standing with Democratic committee members.
Since the White House has no interest in blocking Yates's testimony, surely the House Intelligence Committee will reschedule its hearing, posthaste.