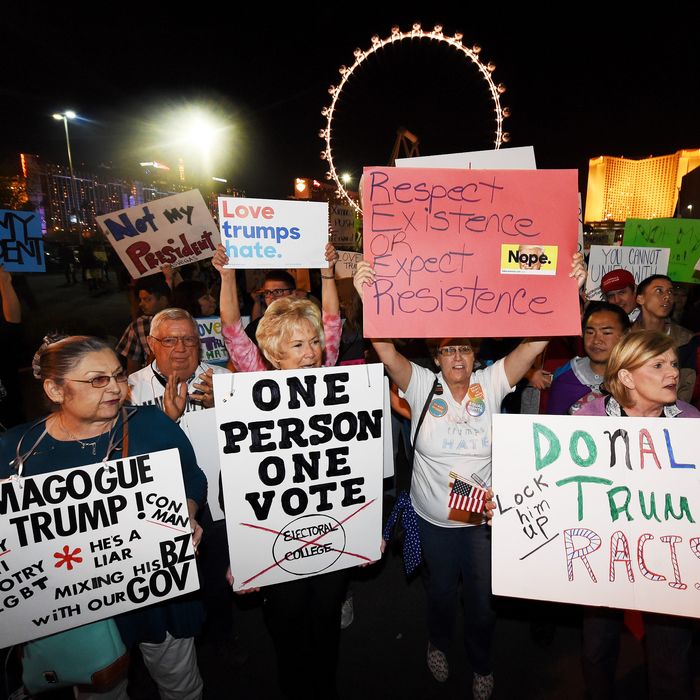 Paper profits.
Photo: Ethan Miller/Getty Images
One of the core promises of Donald Trump's campaign was that he would breathe new life into long-declining American industries. The president vowed to bring boom times back to the coal mines of West Virginia — where decades of automation, resource depletion, and competition from alternative energy resources had evicted countless families from the middle class. He promised to bring similar relief to the automobile factories of the Rust Belt, and construction firms throughout the nation.
There is little evidence that he will make good on any of those pledges. But there is one long-suffering industry that the president has already done wonders for — the office-supplies business.
The week before Trump's inauguration (and/or the Women's March) sales of poster boards, markers, pens, and other (protest) sign-making materials jumped more than 30 percent. Per Bloomberg:
That week, Americans spent an estimated $6 million on supplies—not insignificant considering that many of the individual items cost $1 or less. Sales of foam boards rose 42 percent. Poster board sales grew 33 percent, and in the week before the inauguration, stores sold roughly one-third of the 6.8 million poster boards sold in January. Paint markers and fabric paint for t-shirts also sold more briskly than normal, said Leen Nsouli, director of industry analysis for office suppliers at NPD.

… The sale jump was an unexpected boon to office supply retailers, which had seen sales drop for 22 weeks with the exception of the week before Christmas, and the two weeks before the march. "You were seeing people use more traditional methods to express their thoughts, which was something that we hadn't seen as much," said Nsouli. In the past, "everything was always on the computer, on the phone. This was a really cool way to see it on paper, in pencil."
Trump may not be able to generate that kind of boom every week. But it won't be for lack of trying. Over his first two months in office, the president has done (virtually) everything in his power to sustain the protest-sign industry's boom times — from ordering a grotesquely cruel travel ban to egging protesters on with derogatory tweets.
Industry experts expect these efforts to pay dividends. Nsouli told Bloomberg that "retailers might want to stock up" on paper supplies, in light of the many demonstrations already planned for the coming months.