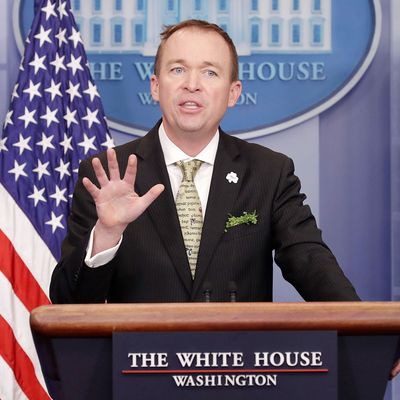 Budget director Mick Mulvaney, drawing upon deep experience in comparative studies of universal-health-insurance programs worldwide.
Photo: Chip Somodevilla/Getty Images
Donald Trump ran for president repeatedly promising to replace Obamacare with a terrific plan that would cover everybody for less money. Faced with the utter impossibility of this promise, many conservative Republicans are ignoring Trump's promise to give everybody access to medical care, or else treating it is an impossibility. Mick Mulvaney, the ultra-right-wing budget director, explained Sunday on Face the Nation that universal care is impossible unless you throw people in prison for being uninsured.
"The only way to get truly universal care is to throw people in jail if they don't have it," explains Mulvaney. It's true! Just go to any country that has universal health insurance — that is, any industrialized country except the United States. Their prisons are filled with the uninsured. There is literally no other way to ensure that people who can't afford medical care have access to it. So that's why Republicans have no choice but to enact a huge cut to health-coverage subsidies to finance a huge tax cut for the rich.