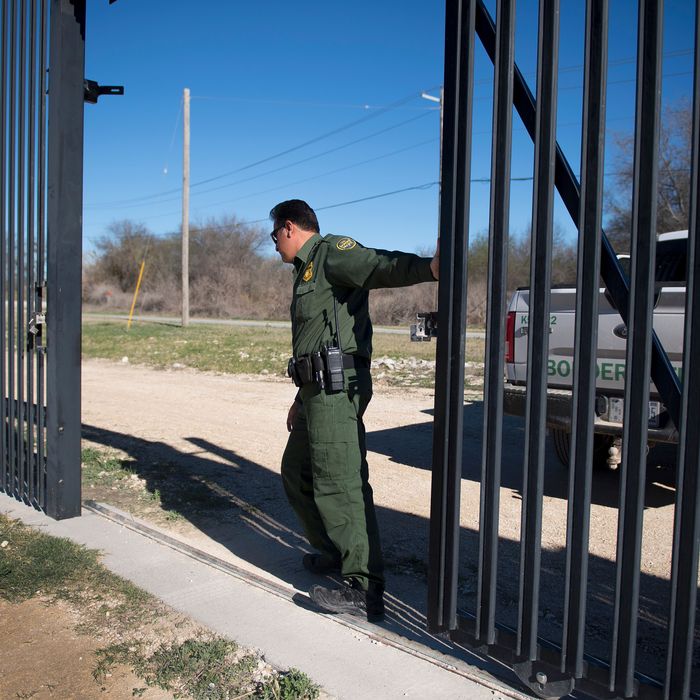 "Existing funds" for Trump's border wall are nominal.
Photo: Jim Watson/AFP/Getty Images
In late January, when President Trump signed an executive order to build his "big, beautiful wall" on the border between U.S. and Mexico, he said the Department of Homeland Security "will begin immediate construction." But where would the money to do that come from? White House Press Secretary Sean Spicer clarified that the beginning of the project would be paid for with "existing funds and resources."
Turns out, there's not much "existing." DHS has found only $20 million that it can redirect toward the border wall, which is only enough to begin building prototypes, according to a memo leaked to Reuters. That $20 million comes from money already appropriated for a fence on the border in Naco, Arizona, which was the rare government project to come in under budget. The rest is being reallocated from a project meant to put cameras on top of trucks patrolling the border.
Because both of these projects were already a part of the the DHS budget for border security, the department did not have to ask Congress to approve the maneuvering, Reuters reports.
But with only $20 million available and the wall projected to cast as much as $25 billion, Trump will soon have to go to Congress to ask for more funding. And that may present a problem. As many Republicans told CNN in February, Congress won't allocate billions to the border wall without offsetting the cost. Even if, as Trump promises, any taxpayer money spent on the wall "will be paid back by Mexico later!"