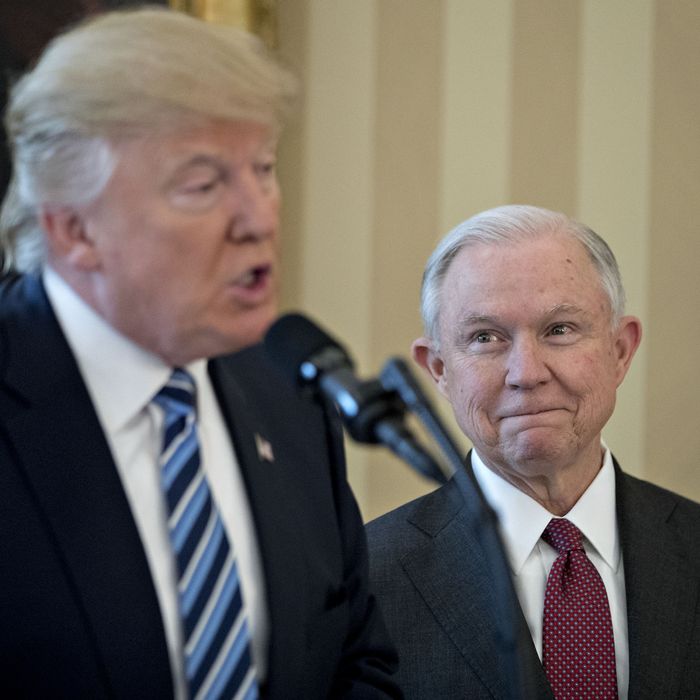 Photo: Andrtew Harrer/Bloomberg via Getty Images
The White House was dismayed on Thursday morning that President Trump wouldn't get another day of good press from his speech to Congress, but according to Politico, they managed to hunker down and focus on their response to reports that Attorney General Jeff Sessions didn't disclose his meetings with the Russian ambassador during his confirmation hearing. White House Press Secretary Sean Spicer was sent to do damage control on Fox News, insisting on Tuesday morning that Sessions had been "100 percent straight" during his Senate confirmation hearing and "there's nothing to recuse himself from."
When asked several hours later if Sessions should step down from investigations into Russia's alleged election meddling, President Trump said, "I don't think so at all … I don't think he should do that at all."
Then late on Thursday afternoon, Sessions held a press conference and announced that he would recuse himself from any Justice Department probe involving the Trump campaign.
Sessions said he had notified White House counsel of his decision to step down from the investigations, and on Thursday evening the president released a statement defending his attorney general, claiming that Democrats are only interested in Russia's activities because Hillary Clinton lost. "The Democrats are overplaying their hand," he said, though the scandal has already forced Sessions to give in to their demands that he recuse himself. Trump said:
Jeff Sessions is an honest man. He did not say anything wrong. He could have stated his response more accurately, but it was clearly not intentional. This whole narrative is a way of saving face for Democrats losing an election that everyone thought they were supposed to win. The Democrats are overplaying their hand. They lost the election and now, they have lost their grip on reality. The real story is all of the illegal leaks of classified and other information. It is a total witch hunt!
For weeks the Trump administration has insisted that the leaks, not their content, are the real concern, even as aides implored top officials to leak positive stories to the press and the president himself acted as an anonymous source. According to Politico, now Trump advisers are blaming holdover Obama appointees for the leaks and are urging the president to hire more people who are loyal to him:
In meetings, Trump aides like Stephen Miller, his senior policy adviser, have frequently complained about leaks and blamed the Obama appointees and longtime bureaucrats. Other aides have complained about having to sit in inter-agency meetings with Obama holdovers in senior positions. And Trump aides have told their people at agencies not to share plans and documents with Obama holdovers or others who are not sympathetic to them.
Trump has only nominated a few dozen candidates for the 550 Senate-confirmed positions across the federal government, but even if he were to fill those positions, that wouldn't solve the problem. Hundreds of thousands of career civil servants can't be fired, there are leaks coming from inside the West Wing, and now "some in Trump's inner circle increasingly fear that the FBI and the intelligence community are out to damage him," according to Politico.
While Trump claimed that he only cared about leaks during the scandal over Michael Flynn's undisclosed contacts with the Russian ambassador, Flynn was still forced to resign as national security adviser. But Sessions may avoid the same fate. As the Washington Post explains, the attorney general and the president have a "nearly indestructible bond."
Jeff Sessions was the first senator to endorse Trump at a time when few Republican lawmakers supported the candidate. His early and fierce loyalty — and his ability to translate Trump's nationalist instincts into policy — helped him forge a bond with the president, and he now enjoys access whenever he wants it, a privilege that few get, an official said.

Two of Sessions's former Senate advisers — Stephen Miller and Rick Dearborn — hold key White House roles, and one official said Sessions still talks to them regularly. The attorney general also is friendly with Stephen K. Bannon, Trump's chief strategist and a powerful player in the administration who promoted Sessions for years on the Breitbart website.
Plus, as one person familiar with the dynamics in the West Wing told Politico, Trump probably won't get too upset about the Sessions scandal as long as "it doesn't splash up on him."
"He doesn't mind someone getting kicked around if it doesn't hurt him personally," he said.