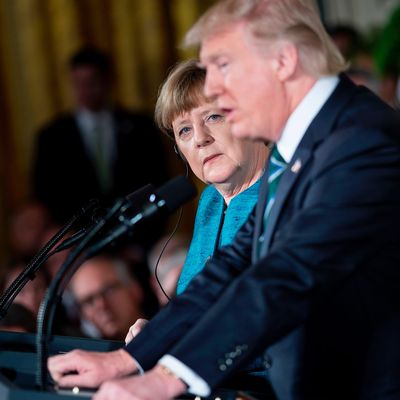 Das boob.
Photo: Brendan Smialowski/AFP/Getty Images
During Angela Merkel's visit to the White House Friday, President Trump refused to shake the German chancellor's hand in front of a crowd of cameras. And then things got awkward.
At a joint news conference following the leaders' sit-down meeting (and handshake snafu), a German reporter asked Trump about his administration's recent spat with another major U.S. ally.
On Thursday, White House press secretary Sean Spicer had suggested that Barack Obama ordered British spies to wiretap Donald Trump's phone, during the final month of the 2016 campaign. British spies were not pleased by this speculation. And on Friday morning, U.K. prime minister Theresa May's official spokesman said that the Trump administration had promised never to make that allegation again.
"Are there other suspects, or do you think it was a mistake to blame British intelligence for this?" the German reporter asked Trump Friday.
"As far as wiretapping, I guess, by this past administration, at least we have something in common, perhaps," Trump replied, gesturing to Merkel.
Documents released by WikiLeaks in 2015 suggested that America's National Security Agency (NSA) had tapped phone calls by the German chancellor and her closest advisers for years.
There was a moment of silence, a confused look from Merkel, and then raucous laughter.
Trump had accused Barack Obama of wiretapping his phones in a Saturday-morning tweet earlier this month. The president has since said that this allegation was based solely on media reports (which do not actually support his allegation) and that his tweets should not be taken literally. But he has also sworn by the truth of his claim — and is, reportedly, furious that the House and Senate Intelligence Committees have both said that there is no evidence to back up his (baseless) assertion.
Trump did not defend the substance of his accusation on Friday afternoon. But he did defend Spicer's slander of GCHQ.
"We said nothing. All we did was quote a certain very talented legal mind who was the one responsible for saying that on television," Trump said. "That was a statement made by a very talented lawyer on Fox, so you shouldn't be talking to me, you should be talking to Fox."
The "very talented lawyer" whom Sean Spicer quoted was Judge Andrew Napolitano — a conservative pundit who has said that 9/11 "couldn't possibly have been done the way the government told us."
Which is to say: The president of the United States just argued that it's perfectly appropriate for the White House to spread conspiracy theories that implicate close allies — so long as a 9/11 truther on Fox News spread them first.