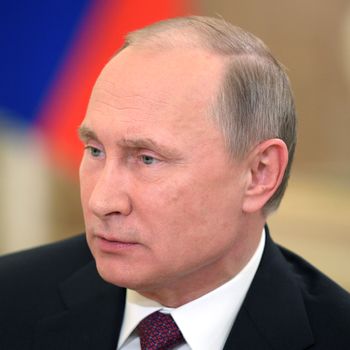 Sad!
Photo: ALEXEY DRUZHININ/AFP/Getty Images
Shortly after Donald Trump's victory last November, a reporter asked Fiona Hill whether the mogul's election would mark a turning point in U.S.-Russia relations.
"I think it will come down to what it's always been — where the Russians will get all giddy with expectations, and then they'll be dashed, like, five minutes into the relationship," the Brookings fellow and Putin biographer told The Atlantic. "We're going to have an awful lot of friction. And Trump isn't exactly the most diplomatic of people. So I imagine he'll fall out with his new friend Vladimir pretty quickly."
Hill may be on the cusp of fulfilling her own prophecy. Foreign Policy reports that the former U.S. intelligence official — and Putin critic — is Trump's pick for White House senior director for Europe and Russia.
"In the KGB, Putin learned how to probe people's vulnerabilities, uncover their secrets, and use compromising information against them," Hill wrote last summer, in a column analyzing why the Russian leader might have interfered the 2016 election. "In other words, blackmail and intimidation are part of his stock in trade."
A little over two weeks ago, the Trump administration lost its first national security adviser to a scandal involving undisclosed discussions with a Russian ambassador. A little more than 12 hours ago, the administration's attorney general found himself in hot water for the very same thing.
It would be tempting then, to read Hill's appointment as an act of damage control. But if it is, then it was a response to damage that preceded Michael Flynn's departure: According to Foreign Policy, National Security Council chief of staff Keith Kellogg had offered Hill the position while Flynn was still in charge.
Regardless, Hill's appointment should come as a welcome relief to opponents of rapprochement with Putin's regime — and, perhaps, another source of buyers' remorse for the denizens of the Kremlin.