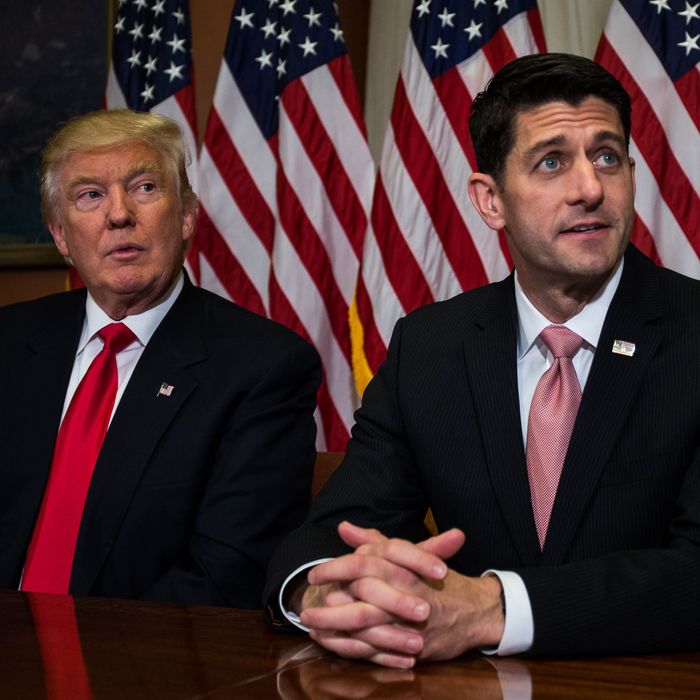 Who knew this could be so complicated?
Photo: Zach Gibson/Getty Images
With no consensus emerging on how to repeal and replace the Affordable Care Act, Republican congressional leaders bet that if they released a plan, rank-and-file members of the party would support it, rather than being branded as the Republican who saved Obamacare.
"The president's going to be very pivotal in this," Representative Dennis Ross, a member of the House GOP whip team, explained last month. "He's got to go into these districts and give air cover to these members who are weak-kneed on some of these issues."
After House Speaker Paul Ryan unveiled the American Health Care Act this week, members of the far-right House Freedom Caucus made their own bet: that Trump isn't very committed to passing Ryan's vision for health-care reform and can be swayed to their way of thinking.
Their plan got off to a rocky start. During a meeting with 20 House GOP whips on Tuesday, President Trump said he would do everything he can to get the Republican health-care bill passed, and did not acknowledge that the reaction so far has been almost uniformly negative. "I really believe we're going to have tremendous support," he said. "I'm already seeing the support not only in this room, I'm seeing it from everybody."
"This meeting was a confirmation from the president that he will do what's necessary and will have our backs," said Representative Dennis Ross, who was in the meeting. "He basically said whatever we need him to do … he'll do that, because it's really, as Mike Pence said, is a binary choice: you vote keep Obamacare or you vote to repeal it."
President Trump's first contribution was tweeting out a mild jab at Senator Rand Paul, who's branded the AHCA "Obamacare Lite."
But there were other early signs that the Freedom Caucus's gamble might pay off. The GOP leadership plans to pass the AHCA at lightning speed; Ryan said he plans to have a floor vote in two weeks, and Majority Leader Mitch McConnell said he'll bring it directly to the Senate in early April.
Yet multiple White House officials suggested on Tuesday that the current legislation is just a starting point for negotiations. Health and Human Services Secretary Tom Price said the bill is "a work in progress." Vice-President Mike Pence described the AHCA as the "framework for reform" and said the administration is "certainly open to improvements."
Members of the Freedom Caucus actually seemed emboldened after a closed-door meeting with Mick Mulvaney, director of the Office of Management and Budget, on Tuesday evening. Mulvaney, a former Freedom Caucus member, talked with the group on behalf of the Trump administration, but Representative Mark Meadows said he didn't tell them they had to back the AHCA.
"He let us know they're still open to negotiations. That this is not something that is set in stone," said Meadows, who chairs the caucus, according to The Hill.
Representative Dave Schweikert's takeaway from the meeting: "If you have other creative things, the White House will look at that too."
While Ryan said earlier in the day that he "can guarantee" that the bill will have the 218 votes needed to pass when it goes before the full House, several Freedom Caucus members said they don't see how that's possible. "Right now, the speaker of the House does not have the votes to pass this bill unless it's got substantial Democrat support," said Representative Mo Brooks.
Mulvaney reportedly didn't get into which parts of the AHCA are up for debate, but Representative Raul Labrador said members of his caucus would have to see major changes. "I don't think there is any tinkering that will get us to 218," he said.
Entertaining "creative" ideas and negotiating major changes does not seem possible when you're trying to rush legislation through Congress in record time. But perhaps the president has learned some tricks for navigating the legislative process since he lamented last week, "Nobody knew health care could be so complicated." At Tuesday's meeting, Trump declared, "It's a complicated process, but actually it's very simple. It's called good health care."