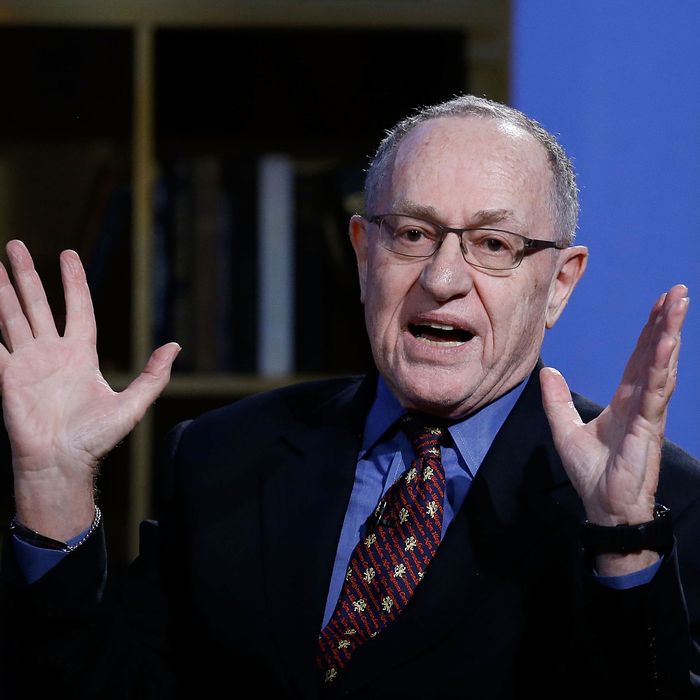 Alan Dershowitz.
Photo: John Lamparski/Getty Images
President Trump is ready to check "peace in the Middle East" off his to-do list and believes "the time is ripe" for such a deal. Harvard Law School professor and high-priced defense attorney Alan Dershowitz says Trump told him as much after a recent run-in at Mar-a-Lago. Trump reportedly then asked Dershowitz to communicate the message to Benjamin Netanyahu, Israel's prime minister.
So that's what Dershowitz did, according to reporting from Haaretz. Dershowitz would not tell the paper about his conversation with Netanyahu, which followed the Trump meeting, but he did spill the beans on his talk with Trump, which came after the supposedly unexpected sighting at Trump's Florida club.
Dershowitz was there with Christopher Ruddy, CEO of right-wing news site Newsmax. Trump spoke to both men while they were eating and later had a tête-à-tête with Dershowitz where they discussed how easy Trump thinks it will be to achieve peace between Israelis and Palestinians.
"The president told me he thinks Palestinian President Mahmoud Abbas wants to get a deal with Israel and that he [Trump] thinks that the time is ripe for a deal and that it is possible," Dershowitz told Haaretz. He added that Trump said he "loves Israel and likes Netanyahu."
Just in case Trump reads the Haaretz piece, Dershowitz also did a little brown-nosing, telling the reporter that Trump was very well-informed on the issue and highly knowledgable about the components of a potential deal.
If you're wondering how Jared Kushner, whom Trump has previously said is the best possible person to broker peace to the Middle East, fits into all of this, the answers remains unclear. On the same day that Dershowitz and Trump were talking about the prospects for peace, Kushner was arriving in Aspen for a family vacation.