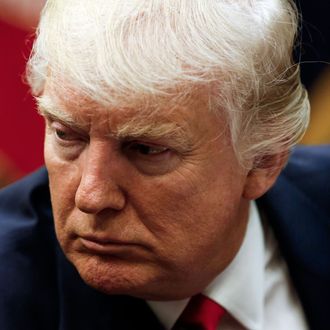 Photo: Aude Guerrucci - Pool/Getty Images
President Donald Trump appeared to have returned to the 2016 campaign trail on Monday night, when he complained about the lack of investigation into the Clintons' connections to Russia:
The "big uranium" deal refers to a Russian state-run corporation's takeover of a company that owned a significant portion of the United States' uranium assets. Last summer and fall, Trump repeatedly alleged that Hillary Clinton was personally responsible for the deal, which took place when she was secretary of State. That claim has been widely dismissed: While the State Department signed off on the takeover, it was also subject to approval by nine other federal agencies and President Obama.
Trump's tweets came as House Intelligence Committee chair Devin Nunes faced increasing scrutiny over his handling of the investigation into Russia's interference in the presidential election. On Monday afternoon, the California Republican admitted that he'd secretly visited the White House just before his questionable announcement that members of Trump's transition team had been caught up in some legal, routine surveillance. Democrats then called for him to recuse himself from the investigation, citing concerns that he might be attempting to undermine the inquiry on Trump's behalf. He's refused to step down, but demands that he do so aren't going to stop. Whatever happens with Nunes, the Intelligence Committee isn't likely to indulge Trump's Clinton fixation anytime soon.