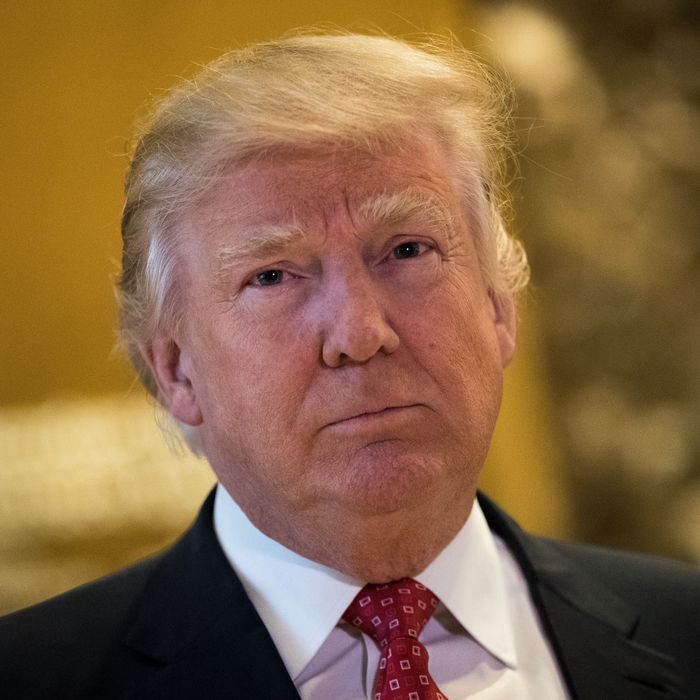 Photo: Drew Angerer/Getty Images
About an hour before her show started on Tuesday night, Rachel Maddow revealed that she had a huge scoop: She'd obtained Donald Trump's tax returns from 2005.
Several minutes into Maddow's interminable wind-up, the Daily Beast stepped on her big reveal: Trump's 1040 from 2005 shows that he paid $38 million in federal taxes on around $150 million in income. That's an effective tax rate of 25.3 percent for that year.
On Maddow, Daily Beast contributor David Cay Johnston, a Pulitzer Prize-winning investigative journalist, said the two-page document appeared in his mailbox. He said he had no idea who leaked it, and speculated that it could even be the president himself. "It's entirely possible Donald sent this to me," he said. "With Donald, you never know."
In a statement released just before the start of Maddow's show, the White House seemed to confirm that the figures in the "illegally published return" are real. (Maddow countered that the First Amendment gives journalists the right to publish unsolicited tax documents.)
There's nothing earth-shattering in the new document, but it does shed some more light on Trump's finances. Last fall, the New York Times published portions of Trump's 1995 tax return, which revealed that he reported a loss of $916 million that year. That could have allowed him to legally avoid paying federal income taxes for up to 18 years. The new return shows Trump had a $103 million loss, which may have been carried over from the '90s, but that wasn't enough to eliminate his tax obligation completely in 2005.
The other key point is that, in 2005, Trump and his wife Melania paid about $5.3 million in regular federal income taxes and $31 million in "alternative minimum tax," which is a supplemental tax designed to make sure that wealthy people can't use credits and deductions to completely avoid income tax. Trump is in favor of eliminating the alternative minimum tax, but without it he could have paid a rate of less than 4 percent. (As The Wall Street Journal notes, it's hard to calculate an accurate effective tax rate due to the $103 million loss. Plus, "the AMT can interact in complicated ways with depreciation deductions and net operating losses.")
Nevertheless, Donald Trump Jr. claimed on Twitter that the leaked return proves his father was very successful in business.
Trump has broken with 40 years of tradition by refusing to release his tax returns. He claims that he can't make them public because he's been under audit for the past 12 years, though there's no law prohibiting that. As Ronald Klain, a former Obama administration aide, noted, the statement from the White House underscores that there's no legal reason the president can't release his tax returns.
This post has been updated throughout.