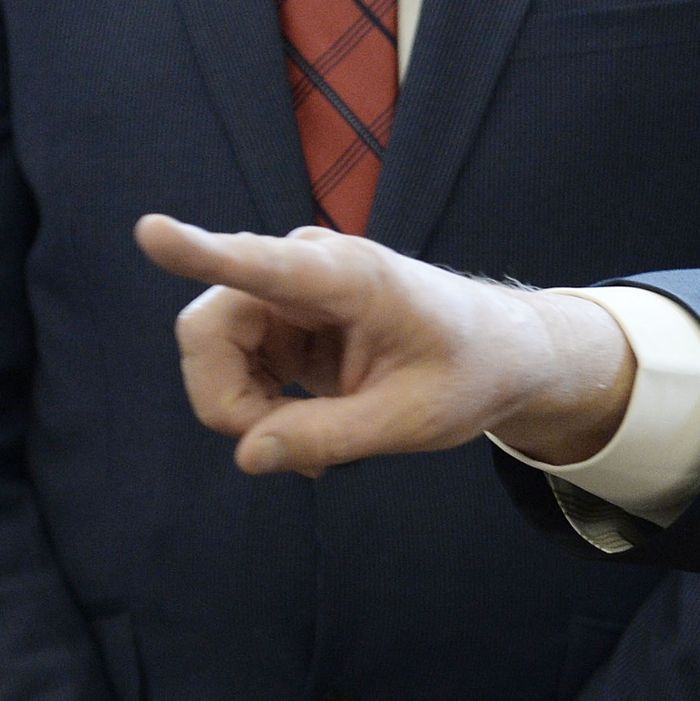 The pointing has begun.
Photo: Olivier Douliery/Pool/Getty Images
On Friday afternoon, President Trump quickly explained that his failure to even get the House GOP behind the Republican plan to repeal and replace Obamacare was the Democrats' fault, despite the fact that Trump hadn't even tried to involve Democrats in the process. Then, on Saturday, with the universally negative news coverage piling up, Trump tipped off his Twitter followers to tune into that night's edition of Judge Jeanine Pirro's show on Fox News. On that program, Piro proceeded to blame the entire AHCA failure on Speaker of the House Paul Ryan in a brutal opening monologue, calling for him to resign since he was unable to provide enough votes for Trump and Trumpcare. Following that, in a tweet on Sunday morning, the president added the House Freedom Caucus, Club for Growth, and Heritage Foundation to the pile of those responsible for, as Trump put it, saving Planned Parenthood and Obamacare and leaving Democrats "smiling."
Here's what Pirro had to say following Trump's instruction to tune in on Saturday:
Appearing on Fox News Sunday, White House chief of staff Reince Priebus insisted that Trump's tweet and Pirro's monologue were "coincidental" because Trump just "loves Judge Jeanine" and wanted "to help out a friend." There was "no preplanning here," Priebus said, further asserting that Trump "thought Paul Ryan worked really hard, enjoys his relationship with Paul Ryan, thinks that Paul Ryan is a great speaker of the house."
White House press secretary Sean Spicer sought to dismiss the connection on Sunday as well, insisting that Trump "is a fan of her show plain and simple." Pirro claimed that there had been "no conversation, no discussion, no email, nothing" between her and Trump prior to his promotional tweet.
Politico reports that Trump and Ryan spoke for an hour on Saturday, and that GOP insiders say that Trump has praised Ryan in private conversations.
Priebus also said on Fox News Sunday that he agreed with Trump's Sunday morning attack on conservative hardliners "100 percent" and added that the president was "disappointed in the number of people that he thought were loyal to him[.]" That likely includes not just the Freedom Caucus, but the House GOP's moderate 'Tuesday Group' whose members, concerned about their reelection campaigns, balked at the AHCA plan as well. On NBC's Meet the Press, Republican congressmember and Tuesday Group member Charlie Dent confirmed a New York Times Magazine story, which reported that Trump had berated Dent at a White House meeting on Thursday, telling the congressmember he was "destroying" the Republican Party by not supporting the AHCA and threatening to blame him should the GOP's tax-reform efforts fail.
Priebus also repeatedly suggested during his Fox News appearance that the Trump administration might try to work with moderate Democrats on future legislation, which could be considered a veiled threat toward obstinate Republicans.