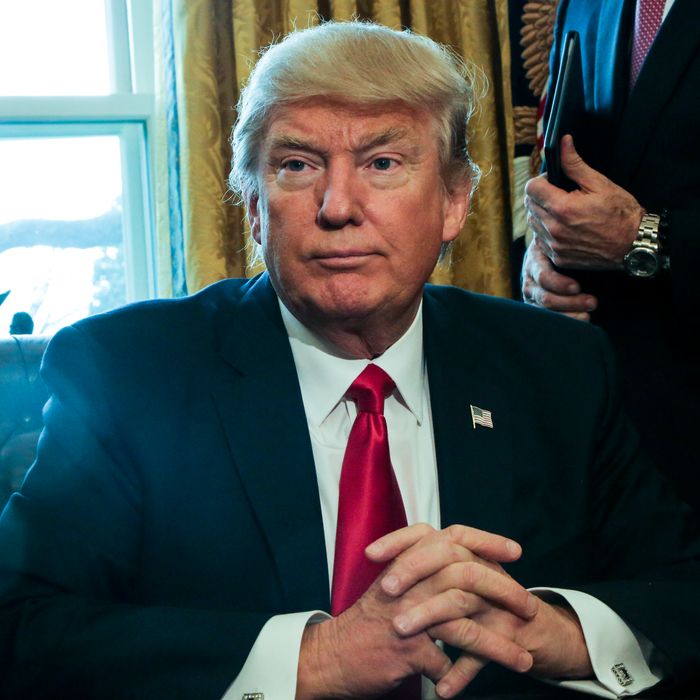 Sad!
Photo: Pool/Getty Images
Back in January, President Trump signed executive orders to "begin immediate construction of a border wall," which is "so badly needed," as he put it. Two months later, it's still unclear what the wall will look like, and even Republicans are questioning how the administration will pay for it. Nobody knew constructing a $21.6 billion, 1,250-mile wall could be so complicated.
President Trump recently insisted, "It's not a fence. It's a wall," but others in his administration aren't so sure. In an interview with Hugh Hewitt this week, Mick Mulvaney, director of the Office of Management and Budget, said the barrier might be "see-through," noting that's actually what U.S. Customs and Border Protection officials prefer.
"Some places, a solid concrete barrier might be desired," Mulvaney said. "In other places, the border folks are actually telling us, border control's actually telling us that they like the one you can see through, because it reduces the number of violent attacks on our folks. So it's a complicated program."
Last month, a leaked internal Department of Homeland Security report estimated that the project would cost $21.6 billion, but Mulvaney said it's impossible to guess the price tag. "It just depends on the kind of wall that you want to build, and I don't think we've settled, yet, on the actual construction," he explained.
The administration is taking steps toward figuring that out. U.S. Customs and Border Protection just started accepting bids from contractors to build prototypes of the "big, beautiful wall." Officials said they expected to construct several versions near San Diego, and test them out for 60 days. "The primary purpose of this effort is to develop design standards for a border wall that may be constructed along the southwest border with Mexico," said CBP spokesman Michael Friel.
CBP began accepting proposals on Monday, and under the original plan they would have whittled down their choices and received final proposals with cost estimates by March 25. According to the Arizona Republic, experts said the timeline for such projects is usually months, not weeks. CBP has extended the first deadline to March 20, without explanation, and the rest of the new schedule is unknown.
CBP did offer some details on what they're looking for: "We anticipate procuring concrete wall structures, nominally 30 feet tall, that will meet requirements for aesthetics, anti-climbing, and resistance to tampering or damage," said the post on the Federal Business Opportunities website.
Senator Claire McCaskill, ranking member of the Senate Homeland Security and Governmental Affairs Committee, complained this week that it's "irresponsible" to move ahead with the project, calling on Homeland Security Secretary John Kelly to explain how much it will cost and how it will be funded.
The administration floated an idea to finance the wall by making deep cuts to the Coast Guard, TSA, and FEMA's terrorism-response program. On Wednesday, Representative Duncan Hunter – a Republican – pointed out that cutting funding to national security programs to boost border security is "nonsensical."
On Thursday, Democratic Representative Gwen Moore introduced the "No Taxpayer Funding for the Wall Act," which would prohibit the use of federal money to build Trump's wall (or fence). The bill has more than three dozen Democratic co-sponsors, and she's hoping to attract some Republican deficit hawks.
Trump famously promised that Mexico would pay for the wall, but in January he and Paul Ryan began emphasizing that U.S. taxpayers would finance the barrier at first, and later they'd figure out some way to make Mexico reimburse us. Senate Majority Leader Mitch McConnell literally laughed when asked on Thursday if Mexico will pay for the wall. "Uh, no," he answered.
Republican senator Cory Gardner went even further during a telephone town hall on Wednesday night, saying, "A wall is not the right way to proceed."
"We shouldn't just build a wall and add billions of dollars because that's what somebody said should be done," Gardner said — though that's basically the position most Republicans adopted during the campaign. As it turns out, figuring out how to "build that wall" is less fun than chanting that phrase at rallies.