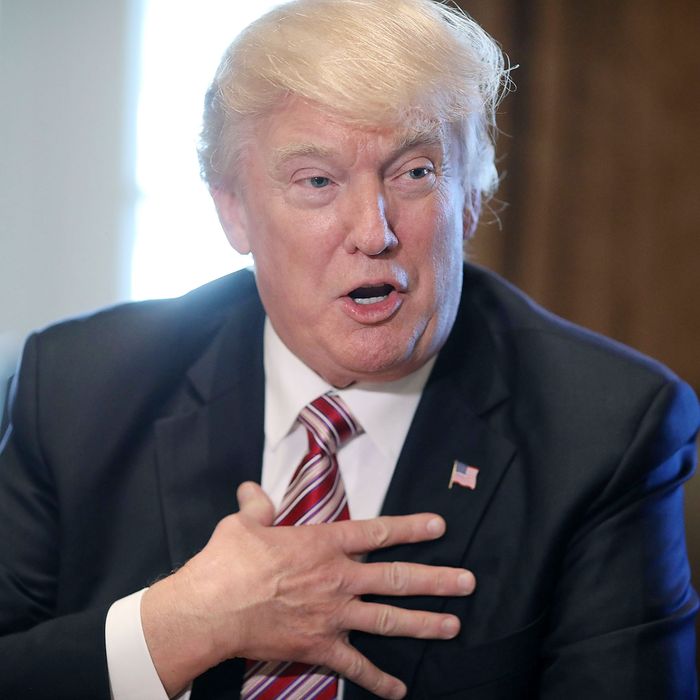 Donald Trump.
Photo: Chip Somodevilla/Getty Images
It is remarkable — and perhaps praiseworthy — that Donald Trump gave a long and detailed interview on the subject of his being a pathological liar. The interview, with Time's Michael Scherer, covers a wide range of Trump's lies, and features many of his own justifications for them. The truly revealing moment of the interview comes at the end, when Trump gives up the game. "But isn't there, it strikes me there is still an issue of credibility," asks Scherer, referencing Trump's hallucinatory claims to have been surveilled by his predecessor, which his own intelligence officials have refuted. Trump rambles through various talking points, and lands on this conclusion: "I guess, I can't be doing so badly, because I'm president, and you're not."
This small line is an important historical marker of the bizarre and disconcerting reality into which American politics has plunged. Trump is not merely making an attack on truth here. He is attacking the idea of truth. His statement is a frontal challenge to the notion that objective reality can be separated from power.
Trump and his officials have been dancing around this notion since November. When challenged on almost any of their lies, they point to the election, which proves that the credibility of the crooked Fake News media is nonexistent, and theirs is beyond reproach. Questions about veracity are met with responses about voting in Wisconsin, Michigan, and Pennsylvania. Trump made the argument explicit: The only measure of his veracity is power, which he has, and his critics do not.
I once suggested that Trump's most anti-democratic quality is his authoritarian epistemology. He tells repeated, brazen lies about matters large and small, in the confidence that his supporters have surrendered all independent judgment to him. That is not a democratic relationship between elected official and polity.