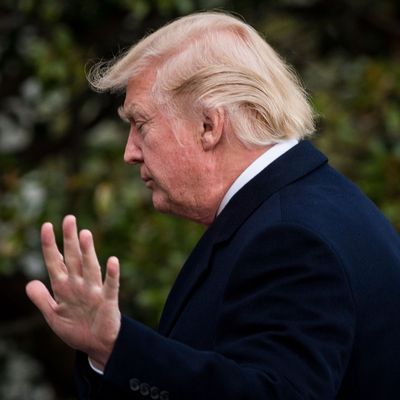 President Trump's hand, like his net worth, is smaller than he'd like.
Photo: Pete Marovich - Pool/Getty Images
Donald Trump's net worth has fallen by $1 billion in the past year, dropping all the way down to a paltry $3.5 billion, according to Forbes, which lowered the president 220 spots on its annual ranking of the world's billionaires.
Last year, Forbes said Trump was the 324th-richest person in the world. Now he's tied with 19 others, at 544th. The magazine attributes Trump's drop to flagging real estate values in midtown Manhattan. "Forty percent of Donald Trump's fortune is tied up in Trump Tower and eight buildings within one mile of it," according to Forbes. "What happens in that micromarket does more to affect the net worth of Donald Trump than anything else in the world. Lately, the neighborhood has been struggling (relatively speaking)."
The numbers Forbes came up with are nowhere close to the $10 billion net worth Trump claims, which is why no one should be surprised if the "failing Forbes" is the next "fake news" organization in the president's crosshairs.