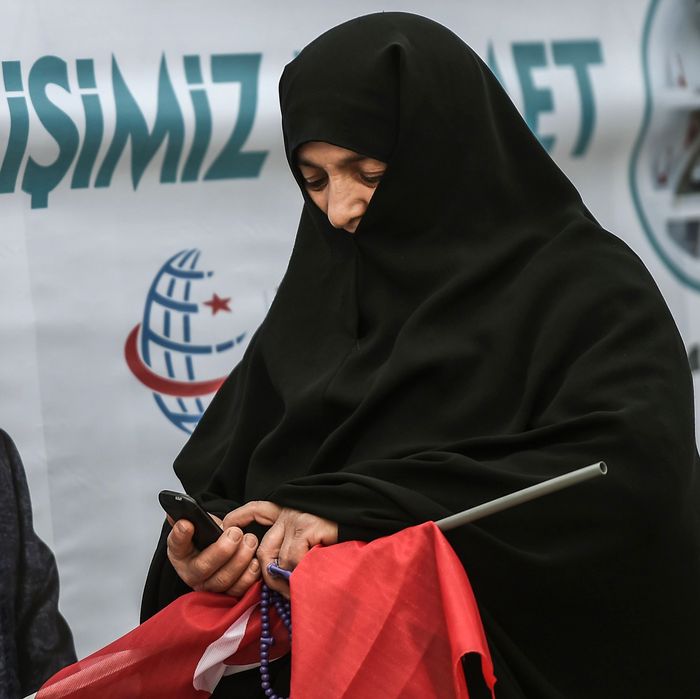 Photo: OZAN KOSE/AFP/Getty Images
Last night, hundreds of Twitter accounts were hacked using a third-party app called Twitter Counter. (Now is a good time to check your Twitter settings, and make sure you don't have the app enabled for your account.) Hacked accounts — which included Nike Spain, Duke, and Forbes, Gizmodo reports — sent out tweets referencing an upcoming referendum vote to give Turkish president Recep Tayyip Erdoğan more power. The tweets included swastikas, the Turkish phrases for "Nazi Germany" and "Nazi Holland" (relations between Turkey and Holland have been tense lately), and links to a YouTube video from the World Economic Forum.
Since the hack, it appears many of the affected accounts have been able to regain control. Duke and Nike Spain have since deleted the tweets and returned to normal. Forbes is also back to business as usual, save for the pink egg avatar still heading the account as of publication of this article. It's unclear who was responsible for the hack, though Counter tweeted to let followers know it is working on containing the issue by turning off the app's tweet feature. Counter also noted it does not store credit-card info, which should be a small comfort to those hacked.
As a reminder, it's a good idea to always double check exactly what access you are granting when you enable a third-party app on Twitter. To do that, head to your Twitter account settings and click on "Apps" in the menu on the left (you can also click this link here). You'll see a list of all the apps that have, to varying degrees, access to your account. If you don't recognize any, or aren't actively using them, it's a good idea to revoke access.
Select All reached out to Twitter, and we'll update this post if we hear back.