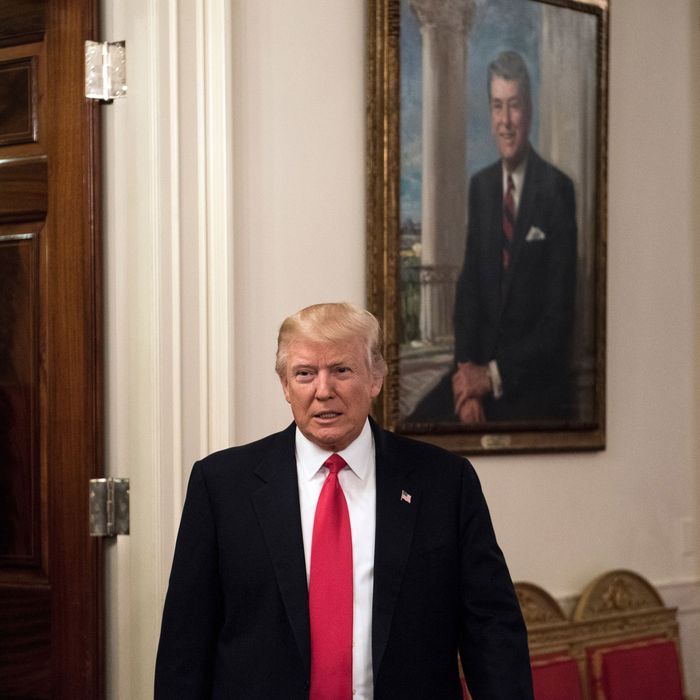 Taxing.
Photo: Brendan Smialowski/AFP/Getty Images
Two House Republicans joined congressional Democrats Friday in signing a letter demanding the release of President Trump's tax returns. North Carolina's Walter Jones and South Carolina's Mark Sanford were the only two members of the GOP to sign the letter, which asks the Senate Committee on Finance and the House Ways and Means Committee to demand the Treasury Department turn over Trump's tax returns from the last decade. The letter says the returns should be made available to members of the two committees in a "closed" session, with the eventual goal of "making them available to the public."
The letter from the House comes two days after seven Democrats on the Senate Finance Committee sent chairman Senator Orrin Hatch of Utah a letter asking for the same thing. It also follows a vote Monday that blocked a resolution calling on the House Ways and Means Committee to release Trump's taxes. The resolution failed on a party-line vote, with Sanford and Jones voting "present." Both Friday's letter and Monday's resolution were spearheaded by New Jersey representative Bill Pascrell, a Democrat.
Jones and Sanford aren't the only two Republicans to signal their discomfort with Trump's refusal to release his tax returns. Last month, Maine senator Susan Collins, a Republican, suggested that the Senate Intelligence Committee might have to subpoena Trump's tax returns as a part of its investigation into his Russia ties. On Wednesday, South Carolina senator Lindsey Graham suggested that a law be passed requiring future presidential candidates release their tax returns. His proposed law would apply to Trump "if he's a candidate for president" in 2020, Politico reported.
At least two lower-profile House members have also called on Trump to release his tax returns, with both coming last month while voters pressed them on the issue at town hall meetings. Florida Republican representative Matt Gaetz told a questioner that he "absolutely" believes the returns should be released. And Iowa Republican representative David Young said at a Des Moines town hall that it's a "no-brainer" for Trump to release his returns. In their first official chance to keep their word to constituents, both Republicans passed and voted against Monday's resolution.