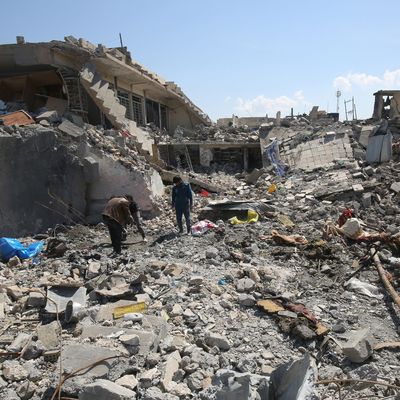 This appears to be what's left of one of the buildings destroyed in the air strike.
Photo: Ahmad Al-Rubaye/AFP/Getty Images
The U.S. is investigating reports that as many as 200 civilians may have been killed in a coalition air strike targeting ISIS militants in Mosul. The March 17 air strike, which the U.S. military acknowledged conducting on Saturday, struck a neighborhood in the suburb of Mosul al-Jadida, where ISIS fighters were engaged in a battle with Iraqi forces. Residents say a building with a large basement being used as a shelter for some 100 civilians — including many families — collapsed in the strike, and reports indicate that bodies are still being recovered from the rubble. In addition, it seems that two neighboring homes, where civilians were also taking shelter, were destroyed in the fighting. According to the Guardian, residents reported that the three buildings, including the one with the large basement shelter, were directly hit by an air strike and other surrounding buildings were damaged by shells and debris.
Though there were some survivors of the blast, victims who were buried alive in the rubble likely had little chance of survival, since it apparently took five days for Iraqi rescue teams to even reach the site.
Other witness accounts indicate that there have been multiple additional air strikes in the area since March 17.
It is not clear what the final death toll will be, but many of those killed were women and children. One local official said that 200 bodies have already been removed from the buildings, but that figure might have included casualties from other locations. Another report puts the death toll around 160, and Iraqi officials said on Saturday that they had recovered as many as 83 bodies, while some residents seem sure there are dozens left to be dug out. None of these numbers have been confirmed, and security forces have been restricting press access to the site. No matter what, if an air strike caused the carnage, it would be one of the worst losses of civilian life at the hands of U.S. coalition forces since the beginning of the Iraq War in 2003.
There is also some dispute over what caused the buildings to collapse. Residents and civil defense officials are confident that it was an air strike, but Al Jazeera reports that the Iraqi army claims that there was no evidence of an air strike. The army instead blamed the destruction on ISIS having booby-trapped the building, alleging that the group is intentionally targeting civilians with explosions that are meant to appear to be caused by Iraqi and coalition forces in order to sway public opinion. It's not clear how credible that conclusion is — particularly since the wrong Mosul neighborhood was cited in the Iraqi military statement — but U.S. Central Command is also investigating the possibility of ISIS booby traps playing a role in the tragedy. Another Iraqi military theory, according to CNN, is that the coalition had struck an ISIS truck filled with explosives, but that account could not be confirmed with U.S. military officials. So far, it seems clear that Iraqi commanders are trying to downplay the incident, while the U.S. has only acknowledged that coalition forces struck ISIS fighters and equipment "at the location corresponding to allegations of civilian casualties."
President Trump has long argued for loosening the rules of engagement in the fight against ISIS, and he has asked military commanders to review whether current restrictions can or should be lifted in order to more effectively target ISIS. During his presidential campaign, Trump insisted that he would "quickly and decisively bomb the hell out of ISIS" and criticized the then U.S. policy as being "too gentle" and too deliberative. Trump also said that he wanted to kill the families of ISIS militants, a tactic that would violate the Geneva Convention. Despite all that, American military officials insist that no changes have yet been made to the rules of engagement under Trump, though they acknowledge that there has been an increase in strikes on ISIS in Iraq and Syria, which they describe as part of a natural progression of the campaign against ISIS. However, an Iraqi special forces officer told the New York Times that the rules had indeed been relaxed under the Trump administration, as it was now much easier for coalition forces to call in air strikes.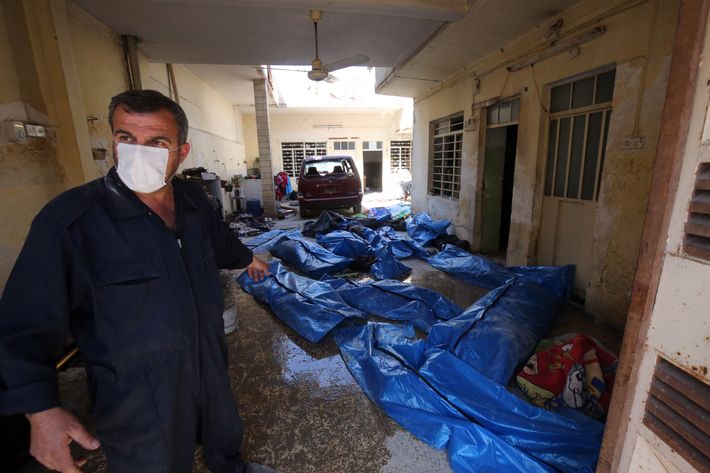 Iraqi and U.S. commanders have also said that ISIS militants have been using civilians as human shields in the buildings from which they are fighting in order to slow the offensive, and Al Jazeera's reporting would seem to partially support that assessment. They say that, according to residents, ISIS fighters roam around from house to house and rooftop to rooftop, and that when air strikes hit a building, the militants have often moved on, but the civilians sometimes remain. One witness, who says six family members died in the March 17 attack, told the Guardian that there were a little more than a dozen ISIS fighters in the area using light weapons, and as such should not have been targeted with such a destructive strike. The Times reports that, according to Iraqi military sources, Iraqi special forces had indeed called in the air strike to take out ISIS snipers on the roofs of the three buildings, but were unaware that those buildings contained civilians.
Either way, international outrage over the loss of civilian life in Mosul as a result of coalition air strikes is rising. On Saturday, the Mosul offensive was allegedly suspended for that reason, and many civilians reportedly tried to leave the city. The offensive resumed on Sunday. As many as 600,000 civilians are still believed to be trapped in western Mosul, where the battle for the densely populated city is now concentrated.
A recent air strike in Syria in which coalition forces struck a complex in Aleppo province in an effort to kill Al Qaeda operatives is also under U.S. investigation. U.S. Central Command said the mission was a success, but the U.K.-based Syrian Observatory for Human Rights claimed that the complex was actually part of a community mosque and that the strike resulted in 49 civilian deaths.

The Airwars organization, which tracks civilian deaths resulting from air strikes in Syria and Iraq, estimates that more than 1,000 people have been killed by coalition strikes in March — up from 465 in December.