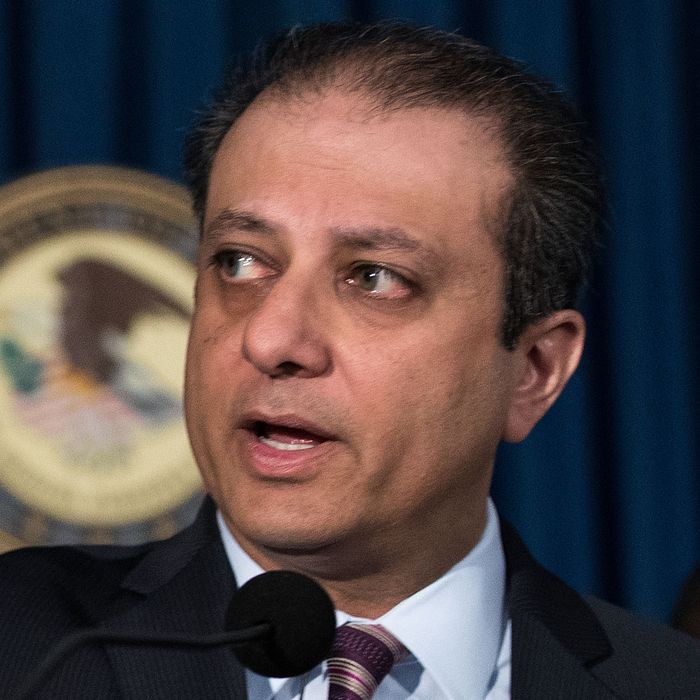 Preet Bharara at a press conference in June.
Photo: Drew Angerer/Getty Images
U.S. Attorney Preet Bharara has been fired by the Trump administration after refusing an order to resign. Bharara was one of the 46 Obama-appointed federal prosecutors who were told to submit their resignations on Friday by the Justice Department, and he confirmed that he both refused to resign, and was then fired, in a tweet on Saturday:

Following his election in November, President Trump had asked Bharara — arguably the most celebrated prosecutor in the country — to stay on at his current post during a meeting between the two men at Trump Tower. Senator Chuck Schumer said in a statement that Trump had also assured him that he wanted Bharara to stick around during a November phone call that Trump had initiated.

Instead, on Friday, Bharara and 45 other U.S. attorneys appointed by President Obama were suddenly told to submit their resignations, and some didn't even find out about the order until reading about it on social media. What made the request all the more surprising was the fact that, according to NBC News, Attorney General Jeff Sessions had apparently spoken with the prosecutors on a Thursday conference call and gave no hint of the impending demand, even ending a call by telling them "happy hunting."
It is not abnormal for a new presidential administration to replace the U.S. attorneys appointed by a previous administration, but typically it is not done in such a sudden, seemingly unprepared manner. The Justice Department order also came less than 24 hours after Sean Hannity, a Fox News commentator whose show President Trump often watches, called for a "purge" of all President Obama's appointees at the Justice Department and elsewhere in the federal government.
Last month, it was reported that Bharara was investigating Fox News over settlements paid to employees who had charged the organization's former chair and CEO Roger Ailes with sexual harassment. The focus of that investigation was to determine whether or not Fox News failed to inform shareholders of the settlements, violating criminal law. Ailes was forced out at Fox News in July following an internal investigation into the sexual-harassment allegations made against Ailes by multiple women.

The Fox News investigation was just one of the many that Bharara was overseeing as the U.S. attorney for New York's Southern District. The Daily News has compiled a helpful list of those ongoing cases, as well as Bharara's many victories, here.

New York's Southern District also encompasses Manhattan, where President Trump lived before moving to the White House. Last week, Trump accused President Obama of ordering illegal wiretaps of him and Trump Tower during the run up to Election Day, though Trump has provided absolutely no evidence to support his accusation, which was likely based on a right-wing conspiracy theory.

Prior to Bharara's termination, some Republican lawmakers in New York had already been expressing their support for the prosecutor, who has made a bipartisan name for himself fighting corruption in the state. The minority leader of the New York State Assembly, Brian Kolb, tweeted "Good for Preet, he is doing the job he was appointed to do!" after seeing the news that Bharara had refused the resignation order. On Friday, GOP assemblyman Steve McLaughlin said he was opposed to the resignation as well, tweeting that "[It's] definitely not a wise move at all if [Bharara] was asked to resign. This should be immediately reconsidered by [Attorney General] Sessions. Big mistake." McLaughlin then tried to start a social-media campaign to save Bharara's job:

This post has been updated to reflect the news that Bharara was fired after refusing the resignation order.