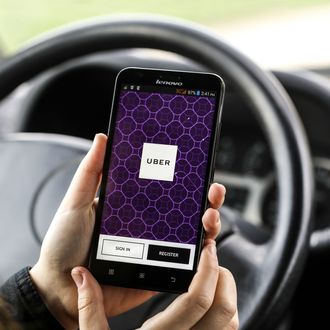 Photo: GoodLifeStudio/Getty Images
Since 2014, Uber has used a secret software called Greyball to label and track city regulators and officials who might hamper Uber's business in a given location. (Think a city like Boston, where the legality of the ride-hailing company's business model has been repeatedly challenged.) The software was part of a larger program known internally as VTOS ("violation of terms of service") and involved using a number of methods — geofences to monitor officials who were opening the app, tracing burner-phone numbers used by police, monitoring credit cards affiliated with government credit unions — to figure out which people hailing rides might be looking to shut Uber down. Once identified, Uber would Greyball those users, showing them a fake version of the app, complete with a map of nonexistent cars that would, for obvious reasons, never come pick them up. Now, the company has announced it will no longer be using the program to monitor officials and is conducting a review of the program.
In a post on the company's blog, Uber notes the software was used for a number of purposes beyond tracking police and local regulators. "For example: the testing of new features by employees; marketing promotions; fraud prevention; to protect our partners from physical harm; and to deter riders using the app in violation of our terms of service." According to the post, Greyball will still be fair game for those purposes, but the company is "expressly prohibiting its use to target action by local regulators." This, however, won't take effect immediately, Uber says, citing the way its "systems are configured." Which sounds a little like something out of Star Trek, but okay Uber.
This change comes after a stretch of unending bad news for Uber, starting with growing reports of gender discrimination at the company, compounded by the departure of two top-level employees — Ed Baker and Amit Singhal — amid sexual allegations, and topped with a video of Uber CEO Travis Kalanick arguing with a driver from the backseat of a car. Kalanick is currently searching for a COO to help steer the company back in the right direction. Or at the very least, help steer the company back in the right direction as far as its public image is concerned. A direction in which Uber is likely hoping the Greyball reversal will get them headed.