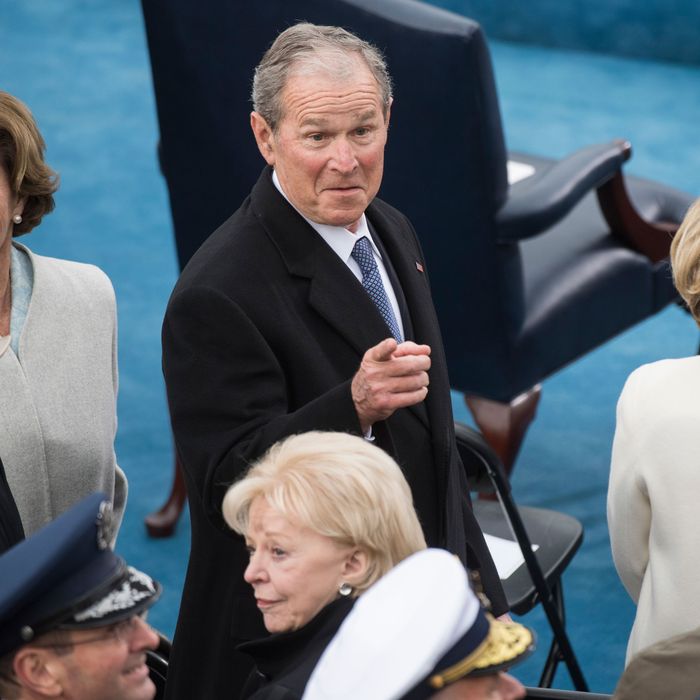 That was some weird shit.
Photo: Tom Williams/CQ-Roll Call,Inc.
The inauguration of Donald Trump was a surreal experience for pretty much everyone who witnessed it, whether or not they were at the event and regardless of who they supported in the election. On the dais, the stoic presence of Hillary Clinton — whom candidate Trump had said he would send to prison if he took office — underlined the strangeness of the moment. George W. Bush, also savaged by Trump during the campaign, was there too. He gave the same reason for attending that Bill and Hillary Clinton did: to honor the peaceful transfer of power.
Bush's endearing struggle with his poncho at the event quickly became a meme, prompting many Democrats on social media to admit that they already pined for the relative normalcy of his administration. Following Trump's short and dire speech, Bush departed the scene and never offered public comment on the ceremony.
But, according to three people who were present, Bush gave a brief assessment of Trump's inaugural after leaving the dais: "That was some weird shit." All three heard him say it.
A spokesman for Bush declined to comment.
Before the inauguration, Trump fired the 89-year-old man who had announced every inaugural parade since Eisenhower. Charles Brotman talks about the experience in this video.
Follow Yashar Ali on Twitter: @Yashar