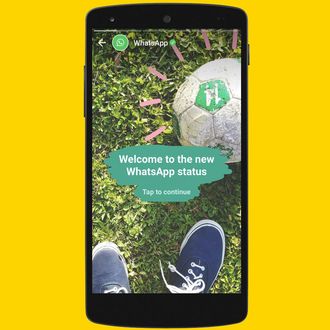 About a month ago, Facebook-owned chat app WhatsApp rolled out changes in line with every other product under the Facebook umbrella: It cloned Snapchat. Just as Instagram, Facebook, and Facebook Messenger have all done, WhatsApp — which is wildly popular basically everywhere, except for the United States — added ephemeral multimedia posts, similar to Snapchat Stories, to its features repertoire — in this case, replacing WhatsApp's standard instant-messagelike text statuses ("Away," "brb").
Now, WhatsApp is quietly rolling back the changes. The app isn't ditching the new Status feature entirely, but user feedback was apparently strong enough that it's bringing back standard text statuses.
The company told TechCrunch:
We heard from our users that people missed the ability to set a persistent text-only update in their profile, so we've integrated this feature into the 'About' section in profile settings. Now, the update will appear next to profile names anytime you view contacts, such as when creating a new chat or looking at Group info. At the same time, we're continuing to build on the new Status feature that gives people fun and engaging ways to share photos, videos and GIFs with their friends and family throughout their day.
The change is currently live in the Android app's beta version, and will roll out wide on Android and iOS soon.
While the Stories feature has proven extremely popular on Instagram (and has likely led to the acceleration of its deployment elsewhere in the Facebook universe), WhatsApp's Status feature has been met with mostly a shrug, an unsurprising result given that it attempted to shoehorn one kind of posting (social-media performance) into another (private messaging). Instagram, where Stories is a natural extension of the app's main uses, is a more natural home for the feature.
Still, it seems Facebook is keen on Snapchatifying as many of its products as possible. It remains to be seen how well it will work. Last week, Facebook launched a third Stories copycat in its Messenger app, once again trying to turn a private-messaging app into a semipublic social network. Snapchat was able to do this because it had already conditioned users to understand that their messages were temporary, and so the mental barrier to posting a Story was lower. Facebook has, for years, been struggling to deal with the problem of context collapse — users collecting all of their social circles under their singular Facebook identity. WhatsApp, similarly, creates friends lists out of disparate phone contacts. Fiddling with these settings in order to post a temporary photo or video might be more hassle than it's worth, especially when Instagram already fits the bill as a more public social network. Facebook isn't going to give up cloning Snapchat's best-known feature anytime soon. But it might not be able to make it as ubiquitous as the company would like.