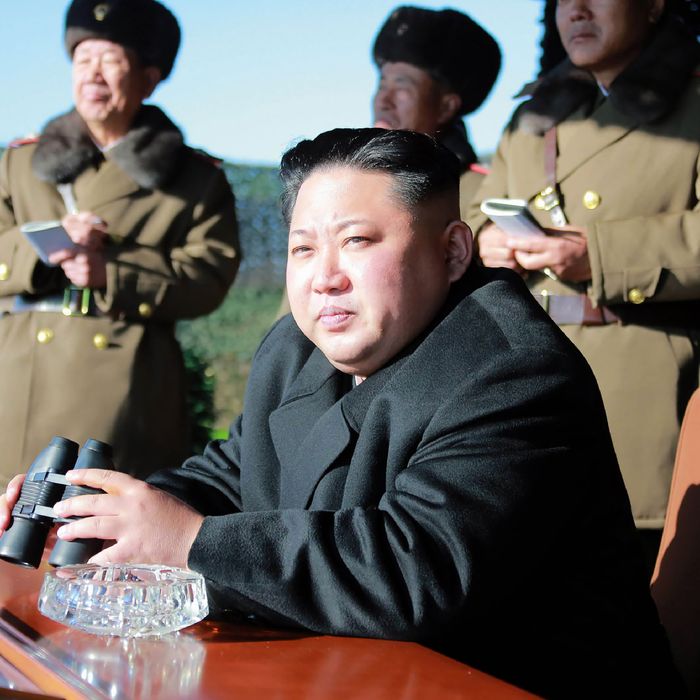 The other unpredictable leader with access to nukes.
Photo: KNS/AFP/Getty Images
Earlier this week, a senior administration official who may or may not be Donald Trump himself told CNN that the president considers North Korea the "greatest immediate threat" to the U.S. They noted that the president told a Chinese official on Monday, "You gotta work on North Korea."
Just in case that doesn't solve the problem, the White House has also launched an internal review of how to handle the dictatorship. The Wall Street Journal reports that deputy national security adviser K.T. McFarland convened a meeting of national security officials two weeks ago and solicited proposals on North Korea — even if they're far outside the mainstream. The administration wanted to hear everything from recognizing North Korea as a nuclear power to using military force against Pyongyang.
Urging officials to thoroughly rethink the problem isn't a bad thing, and those proposals, which were submitted on Tuesday, are now being winnowed down before they're presented to the president. What is concerning is that apparently this wasn't just an internal thought experiment. The WSJ reports: "U.S. officials have underscored the possible military dimensions of their emerging strategy in recent discussions with allies, according to people familiar with the talks."
For instance, during Japanese Prime Minister Shinzo Abe's recent visit, Japanese officials were told several times that all options were on the table. A source familiar with the discussions said the Japanese understood this to include a U.S. military strike on North Korea, possibly if it appeared that Pyongyang was about to test an intercontinental ballistic missile. The Japanese found the idea "worrisome," according to the source.
The Japanese are also concerned that the Trump administration might swing in the opposite direction, holding direct talks with Kim Jong-un and pulling out of the region.
Of course, Americans don't need to worry about any of this. Just stay focused on President Trump's (inaccurate) tweet on the matter: