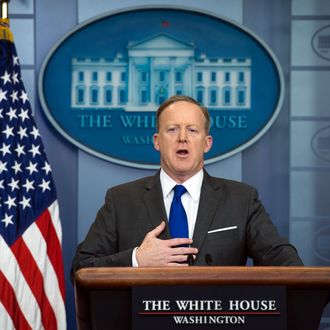 Solidarity.
Photo: Molly Riley/AFP/Getty Images
Last month, President Donald Trump announced that he planned to skip the White House Correspondents' Dinner. White House Correspondents' Association head Jeff Mason responded by saying that the event would happen with or without the traditional presidential headliner: "[The dinner] has been and will continue to be a celebration of the First Amendment and the important role played by an independent news media in a healthy republic." In what could be interpreted as a grim indicator of the health of our republic, the White House has announced that none of its staff will attend the event "in solidarity" with their boss.
"The staff is standing in solidarity with the president, who has been treated unfairly," said Press Secretary Sean Spicer. "We hope, including the president, that things improve and we can attend next year."
"Only the White House can speak to the signal it wants to send with this decision," said Mason, despite what seems to be a pretty clear message on the part of the administration. "The WHCA board regrets this decision very much. We have worked hard to build a constructive relationship with the Trump White House and believe strongly that this goal is possible."
Everybody's hopes for the future aside, this year's dinner is looking pretty subdued: Bloomberg, Time, The New Yorker, and Vanity Fair have all canceled their usual parties. The WHCA has yet to announce who will serve as the evening's entertainment. It's possible that, given the circumstances, the organization might decide against the typical comedy routine. Meanwhile, Samantha Bee is hosting a competing event nearby.
Plenty of people would welcome a more staid White House Correspondents' Dinner, which has been criticized as a display of the press's too-cozy relationship with power — and, more recently, as the reason that Trump ran for president in the first place.