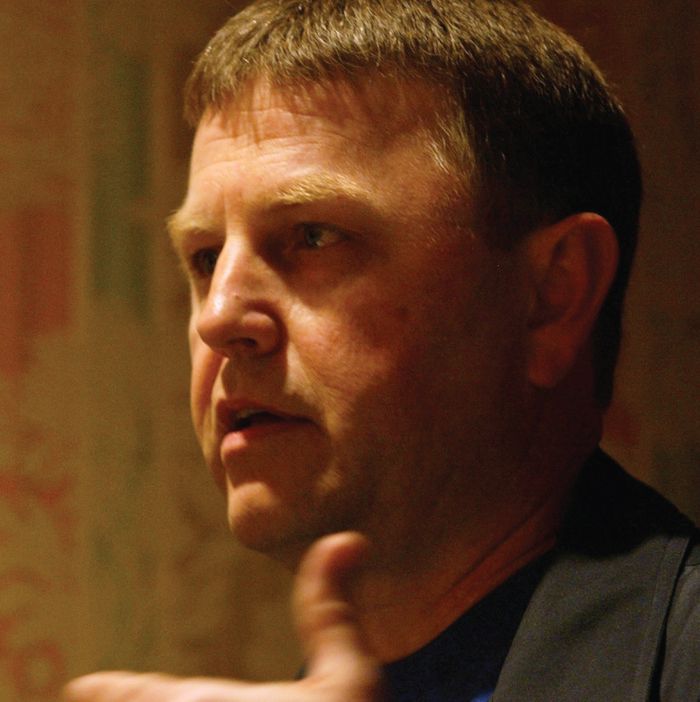 Ex-CIA analyst and blogger Larry C. Johnson (L) and Fox News senior judicial analyst Andrew Napolitano (R).
Photo: Spencer Platt/Screencap/Getty Images/Fox News
Last week, the Trump White House ignited a diplomatic row with America's closest ally when Press Secretary Sean Spicer, looking to bolster President Trump's baseless wiretap allegations against President Obama, promoted Fox News commentator Andrew Napolitano's report that Obama used a British intelligence agency to spy on Trump during last year's presidential campaign. The British Government Communications Headquarters (GCHQ), which is the agency responsible for the U.K.'s intelligence gathering, then made a rare public statement in order to officially rebuke the claim, calling Napolitano's report "nonsense" and "utterly ridiculous."

President Trump, asked about the claim by a reporter on Friday, tried to shift blame to Fox News and Napolitano, who he also nonetheless praised:
We said nothing, all we did was quote a certain very talented legal mind who was the one responsible for saying that on television. I didn't make opinion on it, that was statement made by a very talented lawyer on Fox. And so you shouldn't be talking to me, you should be talking to Fox.
But Napolitano's claim, which he repeatedly said came from "Fox News sources," was then seemingly dismissed by Fox News itself. Anchor Shep Smith said on Friday that the network could not confirm Napolitano's "commentary" and that "Fox News knows of no evidence of any kind that the now-President of the United States was surveilled at any time in any way. Full stop." The network also said that Napolitano still "stands by his report," but anchor Bret Baier later reiterated that "the Fox News division was never able to back up those claims."
Napolitano's report has also now drawn a rebuke from the deputy head of the NSA, Richard Ledgett. In a BBC interview on Saturday, Ledgett called Napolitano's "crazy" report "arrant nonsense," adding that the allegation "belies a complete lack of understanding of how the relationship works between the intel community agencies" and "completely ignores the political reality of 'would the UK government agree to do that?'"
Answering his own question, Ledgett went on, "Of course [British government] wouldn't do it. It would be epically stupid."
So where did Fox News' "very talented legal mind" come up with this White House–boosted allegation? The New York Times and Politico report that one of the sources was former CIA analyst, blogger, and occasional Russia Today guest Larry C. Johnson, who infamously promoted the false rumor in 2008 that the GOP possessed a bombshell video in which former First Lady Michelle Obama had been recorded making disparaging remarks about white people — also known as the infamous "Whitey tape" hoax. Napolitano apparently asked Johnson to speak with the Times on Friday, and Johnson explained to them that Napolitano had heard about the U.K. wiretap claim through an intermediary who had learned of it through sources in the U.S. intelligence community. Johnson, who maintains that the "Whitey tape" fiasco was the result of him getting played by Clinton operatives during the contentious 2008 primaries, has since denied some of the Times report, but admits that he was one of Napolitano's sources. Appearing on CNN's Reliable Sources on Sunday, Johnson further elaborated that he had posted the theory on an online discussion board and someone passed that post along to Napolitano.

Speaking with Politico, Johnson explained that his own initial source for the U.K. wiretap theory was a Democrat who is not actually in the U.S. intelligence community but has ties there, and was someone "with a history of having access to national security information." That source, according to Johnson, was "alarmed at what he saw as this meddling in the election." He says he confirmed the tip with two people in the intelligence community and "we're not talking janitors or cleaning ladies."
Johnson also appeared on the state-controlled Russia Today (RT) television network earlier this year to contest the U.S. intelligence community's conclusion that Russia interfered in last year's election. He then repeated that opinion earlier this month when he reappeared on the network one day after Trump tweeted his now notorious allegation that President Obama had illegally ordered a wiretap on him and Trump Tower. In that interview, Johnson — who says he was not paid by RT for his appearances — seems to have made the first-ever public mention of the U.K. wiretap theory, alleging that senior members of the Obama administration had colluded with the U.K. to spy on Trump and then illegally disseminated that information throughout the U.S. government. He has also passed along the theory that U.S. government insiders like the CIA may have hacked the Democratic National Committee during the campaign instead of Russia.

"I'm not a nut," Johnson told Politico.

The British government says it told its U.S. counterparts that they should have ignored the "ridiculous" wiretap claim, and also stated that the U.S. has promised not to repeat the accusation. The White House, however, has denied a report that they apologized to the British government for highlighting the allegations. "I don't think we regret anything," White House Press Secretary Spicer said to reporters on Friday, "We were just passing on news reports."

This post has been updated to include information shared on CNN's Reliable Sources broadcast.