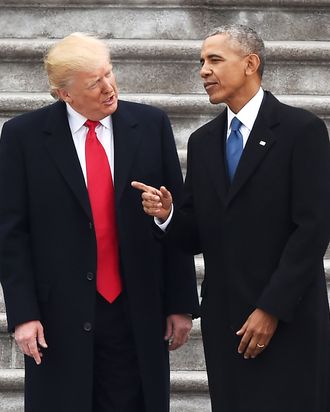 Bad health-care president, good health-care president.
Photo: Robyn Beck/AFP/Getty Images
With the collapse of the House health-care bill, the cause of repealing Obamacare, a right-wing obsession for seven years and a day, has died. The flame will never be fully extinguished in the hearts of the true believers — after all, in right-wing think tanks and other places far removed from electoral politics, anti-government zealots still dream of phasing out Social Security or Medicare. But the political project dedicated to restoring the pre-Obamacare status quo, in which people too sick or poor to afford their own insurance without the subsidies and regulations of the Affordable Care Act could be safely ignored, is gone forever. And it is dead for the best possible reason, the reason that undergirds all social progress: because a good idea defeated a bad one.
Conservatives have already collapsed into mutual recriminations for their failure. Reporters have blamed Trump's deal-making skills. Trump's loyalists are loudly blaming Paul Ryan. "I think Paul Ryan did a major disservice to President Trump, I think the president was extremely courageous in taking on health care and trusted others to come through with a program he could sign off on," Chris Ruddy, CEO of the right-wing site Newsmax and a longtime friend of Trump's, tells Bloomberg. "The president had confidence Paul Ryan would come up with a good plan and to me, it is disappointing." David Brooks blames both Trump and Congress. "The core Republican problem is this," he writes. "The Republicans can't run policy-making from the White House because they have a marketing guy in charge of the factory. But they can't run policy from Capitol Hill because it's visionless and internally divided."
The American Health Care Act is a truly horrendous piece of legislation. But it did not become the vehicle for the Obamacare repeal effort because Trump, or Ryan, or anybody insisted on it over some other option. It became the repeal bill because nobody in the Republican Party had a better idea.
++
Reforming the health-care system is an inherently daunting project. What makes health care so resistant to change is that, the worse the system gets, the harder it is to change. More waste means more profit centers with an interest in protecting their income. And more uninsured people means more anxiety for those who do have insurance about losing it, and hence more resistance to change. The political miracle of Obamacare was its ability to design a way to cover the uninsured and to pay for the coverage in a politically viable fashion. The law found a way to solve a political problem that had frustrated would-be reformers for decades.
By the way, Obamacare is not the only part of our former president's legacy that will live on:
And they accomplished it against the ruthless opposition of a united party that has used every demagogic method to undermine it — in Washington, in the states, and in the courts. If Republicans had not launched a legal battle to allow states to deny Medicaid coverage to their citizens, and then cruelly taken up the opportunity to do so; sabotaged small but crucial risk-corridor payments to encourage insurer participation; and denied funds for outreach to exchange customers, it would be functioning better than it is. Still, it is functioning. As the Congressional Budget Office found last week, the exchanges are not in a death spiral. Insurers have found a stable price point.
Republicans have spent eight years fooling themselves about Obamacare. They have built a news bubble that relentlessly circulates exaggerated or made-up news of the law's shortcomings and systematically ignores its successes. The smartest members of the conservative-wonk set played a more clever game to retain their influence. No serious conservative analyst could argue that Obamacare had actually made the health-care system worse. How could they, when the federal government is now spending less money on health care than it was projected to spend before Obamacare passed, medical inflation is at the lowest level since the government began recording it 50 years ago, and 20 million more Americans have insurance? But admitting Obamacare constituted an improvement in the health-care system, even an imperfect one, would be tantamount to expulsion from the conservative movement, and with it any hope of influencing Republican policy. The closest they might come is pleading that repealing Obamacare was "not enough," that they must also replace it with something better. This formulation allowed them to neatly sidestep the question of whether repeal alone would make the system better or worse.
So instead of comparing Obamacare to what it replaced, they compared it to the plan Republicans would have passed, if only they had the chance. The existence of the mythical Republican health-care plan was the foundation for every serious critique of the law. And now that that plan has finally appeared, virtually the entire conservative intelligentsia has been forced to admit it is worse than Obamacare. The single data point that conservatives have repeated with the most relentless frequency is that Obamacare is unpopular. It is true that, for most of its life, the law has polled in the 40s. Republicans deemed all disapproval of Obamacare to be approval for their stance, never acknowledging that much of this disapproval came from those who wanted the law to do more, not less. Now that there is a Republican alternative, it is polling at an astonishing 17 percent. Comically, repeal efforts have pulled Obamacare's polling above water. The slim reed of public opinion upon which they built their manic repeal crusade snapped immediately under the weight of political implementation.
++
It is true that other conservative health-care ideas do exist in the universe. It is also true that the GOP's lack of a supermajority forced it to pursue fiscal-only repeal measures, and prevented the full rewriting of Obamacare regulations that right-wing purists would have liked. But those ideas would also have failed. Indeed, many of them are even more politically fatal than the ones Paul Ryan wrote. The original version of Ryan's plan would have financed its tax credits by scaling back the tax deduction for employer-sponsored insurance. That is a sound idea, but one that would have jeopardized employer insurance for 150 million Americans, making any such bill radioactive.
The right's insoluble problem is that people who have insurance like it. Employer-sponsored insurance is popular. Medicare is popular. Medicaid is popular. To the extent that the exchanges in the ACA are not that popular, it is because they are less like those forms of insurance and more like the kind of insurance conservatives prefer — they have higher deductibles, more price discrimination between old and young, and more market competition. Any employer-sponsored insurance plan is going to cover essential health benefits. It's going to charge the same price to the young and the old alike. In other words, it is going to spread the risk of needing medical care throughout the population it covers.
Conservatives disagree philosophically with the very concept of insurance as most Americans experience it. Insurance means spreading risk, which is a form of redistribution. Republicans postured against Obamacare from the left, denouncing its high deductibles and premiums, and promising a better, cheaper plan that would cover everybody. Their plan, inevitably, did the opposite. All politicians overpromise, of course. But the Republicans did more than overpromise. They delivered a policy directionally opposed to their promises.
It is not possible to write a bill that meets public standards for acceptable health-insurance coverage within the parameters of conservative ideology. It is possible — just barely — to write a bill that meets public standards for acceptable health-insurance coverage within the parameters of liberal ideology. The form taken by Obama's health-care reform will change over the decades to come. But its central triumph, creating a federal right to access to basic medical care, will never be taken away.