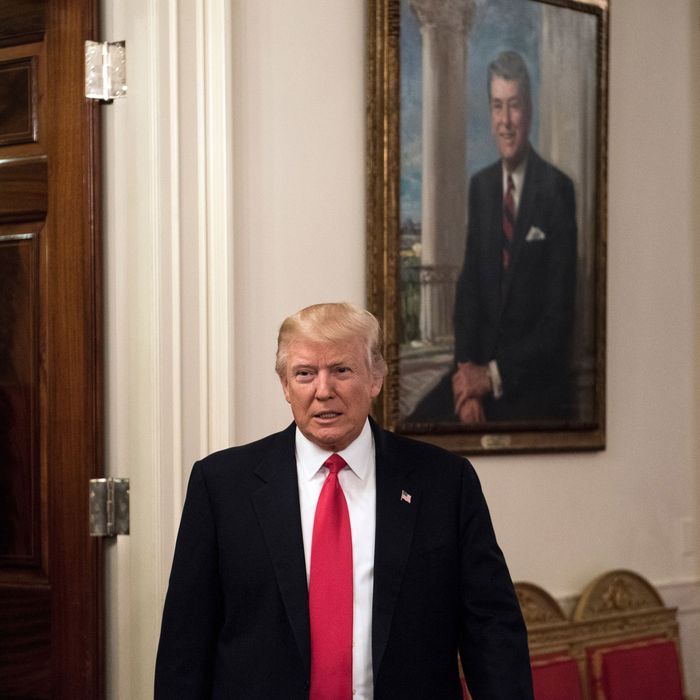 Even if the ghost of Ronald Reagan has Trump's back, his administration's incompetence in filling jobs means too many of those evil Obama holdovers are still essential.
Photo: Brendan Smialowski/AFP/Getty Images
As the Trump administration approaches the gut-test phase of the new presidency, with a jammed-up legislative calendar and unpredictable overseas challenges, its failure to fill top policy-making positions in the Executive branch is no longer just embarrassing. It's becoming what conservative journalist John Fund, writing in the National Review, calls "a personnel crisis in the Trump White House." And ironically, this leaves the new administration dependent on Obama-appointed holdovers whose very existence tends to stimulate the 45th president's most paranoid apprehensions.
So why not just fill the jobs? Explanations vary. A big New York Times piece on the matter emphasizes three factors: a poorly staffed transition operation; a double political vetting aimed not only at keeping out godless liberals but also Republicans who at some point said disparaging things about the new Boss; and a five-year lobbying ban that gives pause to those with plans to cash in.
Trump himself threw everyone a curve with a fourth explanation that had the air of a tossed-off and half-baked thought: He didn't want to fill all of those useless jobs to begin with (a rather insipid thing to say about positions that might be crucial to his goal of reducing the size of the bureaucracy). But that assertion is no longer operative, according to the Times: "[T]he president has not proposed any plan for trimming crucial senior positions, and a White House spokeswoman, Lindsay E. Walters, said he eventually planned to fill them."
How long is "eventually," though? Fund tells us we could be looking at a long stretch of time when these positions are either empty or occupied by people the new regime has no reason to trust:
A top Republican strategist who has worked on several presidential personnel teams told me that the Trump administration must take command of the situation.

"The President needs to ensure a process by which 30 to 40 top-tier nominations a week get processed for the next ten to 20 weeks to even be in a position to recess-appoint any who are bottled up by the Democrats," he told me. "The entire system is down now, soup to nuts." He says that the current staff at Presidential Personnel is incapable of handling anywhere near that flow. If nothing is done, the problem will only get worse. At the current rate of nominating individuals to positions, we could see the Trump administration's first or even second anniversary before it would actually be filled with Trump people.
Wow. One can only imagine the kind of poisonous atmosphere such a long hiatus could produce across the agency landscape, where there are no "Trump people" in place and a smattering of commissars must police countless bureaucrats. If Stephen Bannon's promise that the new administration would "deconstruct the administrative state" is to come true, a lot more deconstructors need to be found and appointed. It might be smart to overlook the fact that some of them had impure thoughts about Donald Trump before his improbable nomination and election.