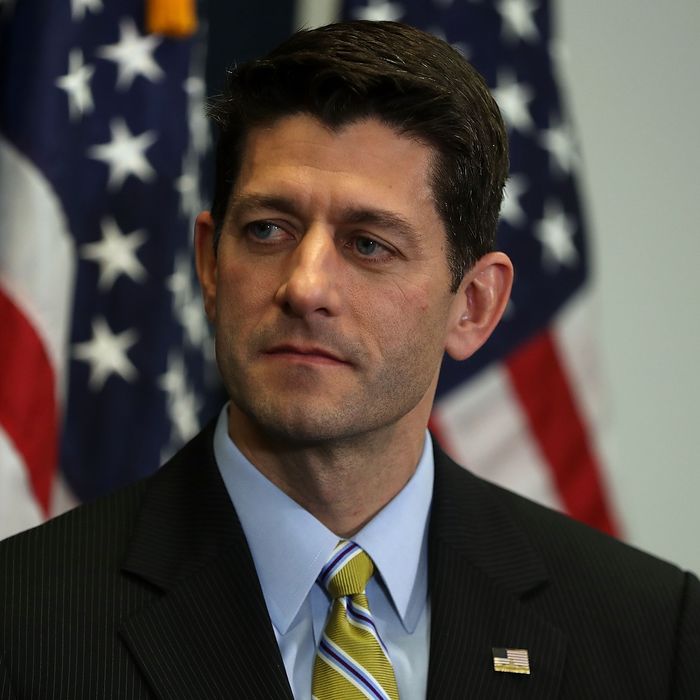 Ryan cares.
Photo: Justin Sullivan/Getty Images
The first major legislation of the Trump era is set to hit the House floor Thursday night. And, as of this writing, Paul Ryan doesn't have the votes to keep it from dying there.
The American Health Care Act has made a lot of enemies in its short time on Earth. President Trump's Obamacare replacement is too liberal for tea-party Republicans and interest groups; too regressive for moderate Republicans and Democrats; and too poorly-thought-out for the American Medical Association, the AARP, the American Hospital Association, and virtually every conservative health-care wonk.
The bill's central problem is irresolvable. The Republican Party has spent eight years pretending that it opposes Obamacare because the law failed to make health care affordable for all Americans. In truth, the GOP has opposed Obamacare because the law redistributes the hard-earned capital gains of the wealthy to the undeserving lower orders. Thus, there's no way to achieve the party's true objective without making its official complaints about the American health-care system worse — if you cut the taxes that subsidize the premiums and deductibles of low- and middle-income Americans, you're going to make health care less accessible than it currently is.
This fact — combined with the GOP's eagerness to get this health-care headache over with and move on to passing even bigger tax cuts for the rich — has led the party to push its much-maligned bill toward passage at rapid speed. Even after the Congressional Budget Office found that AHCA's system of health insurance tax credits was so poorly designed it would actually leave more people uninsured than simply repealing Obamacare without a replacement, Paul Ryan barely took time to catch his breath.
The House GOP has put some last-minute lipstick on its pig — throwing in $75 billion in subsidies to be named later and a gift to Republicans in upstate New York. But the party's bill remains, fundamentally, a plan to finance a giant tax cut for millionaire investors by making health insurance less affordable for most Americans.
It's not surprising then, that the bill faces significant opposition in the House. But it is a bit surprising that the opposition is coming almost exclusively from the right.
To secure the 216 votes required for passage, Paul Ryan can only lose 21 members of his own party. Here are the 24 Republicans who say they oppose the bill, as of this writing, per CBS News:
1 Justin Amash, R-Mich.
2 Lou Barletta, R-Penn.
3 Dave Brat, R-Va.
4 Mo Brooks, R-Ala.
5 Rod Blum, R-Ia.
6 Ted Budd, R-N.C.
7 Rick Crawford, R-Ark.
8 Rep. Warren Davidson, R-Ohio
9 Brian Fitzpatrick, R-Pa.
10 Tom Garrett, R-Va.
11 Rep. Louie Gohmert, R-Tx.
12 Paul Gosar, R-Az.
13 Walter Jones, R-N.C.
14 Jim Jordan, R-Ohio
15 John Katko, R-N.J.
16 Raul Labrador, R-Idaho
17 Leonard Lance, R-N.J.
18 Thomas Massie, R-Ky.
19 Mark Meadows, R-N.C.
20 Scott Perry, R-Pa.
21 Ileana Ros-Lehtinen, R-Fl.
22 Glenn Thompson, R-Pa.
23 Robert Wittman, R-Va.
24 Ted Yoho, R-Fl.
There are 23 House Republicans who represent districts that Hillary Clinton won last November. Only three — Lance, Katko, and Ros-Lehtinen — are on this list. Brian Fitzpatrick represents a competitive district where Trump barely eked out an advantage over Clinton. The rest hail from Trump country.
The bulk of the opposition comes from tea-party hard-liners in the House Freedom Caucus. And, without question, there's plenty in Trumpcare for fiscal libertarians to hate. The bill is, fundamentally a flat, rancid can of "Obamacare lite."
Still, it's remarkable how many of the House GOP's vulnerable, relative moderates have lined up behind a heinously unpopular bill that hurts core Republican constituencies. From one angle, you could view that as a promising sign for Paul Ryan and company — they've already wrangled the hardest votes, and just have to wait for their far-right compatriots to finish their posturing.
But if the House Freedom Caucus stands its ground, Trumpcare may not even make it to the floor: How many Republicans from blue districts are gonna walk the plank for a bill that can't pass?