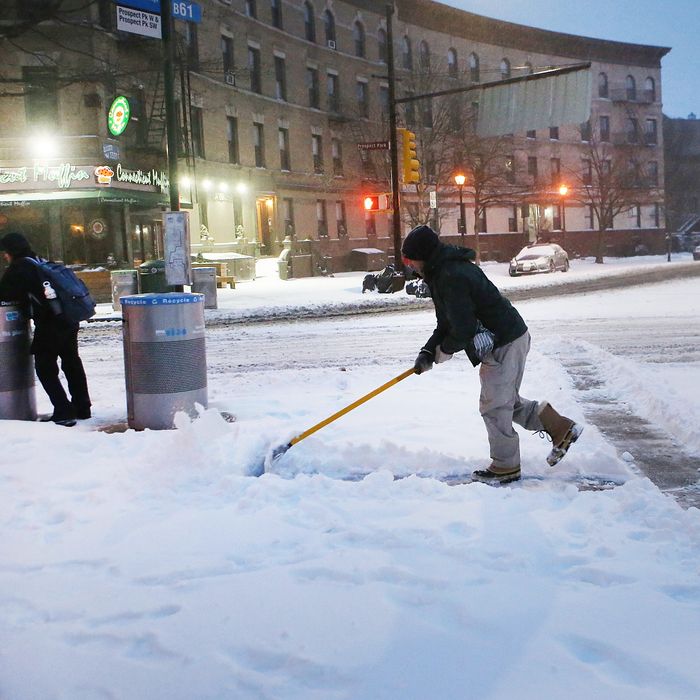 A man shovels snow in the sleet and snow on March 14, 2017, in New York City.
Photo: Spencer Platt/Getty Images
New York City is getting back to normal Tuesday evening, after the blizzard that wasn't still disrupted transit, closed schools, and kept much of the city, except those snow crews, shut in or "working from home."
The blizzard warning winter-weather advisory is finished, though the National Weather Service still warns of wind gusts of up to 50 miles per hour until early evening. Aboveground subway service will start up again at 6 p.m., after being shut down since before dawn. Mayor Bill de Blasio promises school will be open tomorrow.
Forecasts until Monday night threatened New York City with around 20 inches of snow. The National Weather service reportedly knew by Monday afternoon that the models were calling for far less snowfall, but, for some reason, decided not to fill the public in. Either way, the nor'easter shifted westward, dumping one to two feet of snow in the regions northwest of the city, and leaving the city with a nasty combination of snow, sleet, and rain.
The snow accumulation for New York City had been downgraded to a measly four to six inches, and that's about where five boroughs ended up. Central Park logged 7.2 inches. LaGuardia Airport recorded 5.9 inches; JFK came in just shy of 4 inches. The Bronx's Parkchester neighborhood won, with 8.3 inches.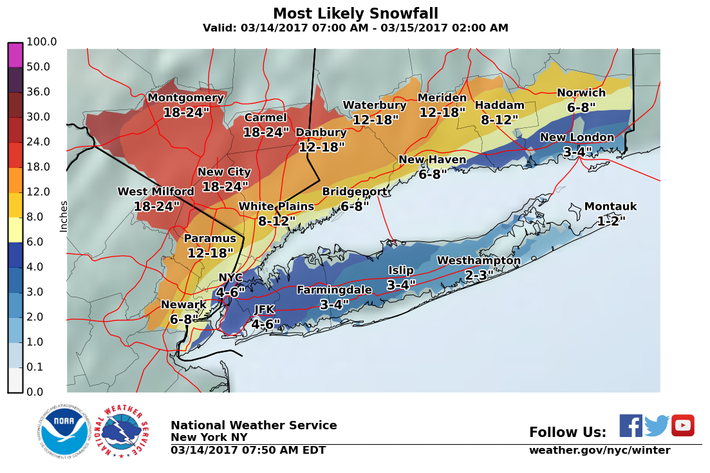 At least take consolation that the storm delivered with some thundersnow.
To recap, Governor Andrew Cuomo had declared a state of emergency in all 62 counties of New York; Mayor Bill de Blasio also declared a state of emergency in New York City, and closed schools. The MTA suspended aboveground service at 4 a.m. Tuesday, and trains were running on the local track:
New York City Transit buses are still operating, though definitely check for service changes before venturing out to catch one. Cuomo shut down Metro-North as of noon Tuesday because of the extreme snowfall inland; limited service has resumed as of early evening. The Long Island Rail Road is operating on a regular weekday schedule, but with some delays and cancellations. MTA officials indicated that they expect subways and commuter lines to be back to normal by Wednesday morning.
It remains bitterly cold outside, and temperatures will dip overnight into the low 20s, with windchills in the teens. Officials are still urging people to be careful venturing out on the roads; the brutal cold puts slick roadways at risk of refreezing.
Now for the people who actually got the snow downstate New Yorkers were promised. Counties such as Putnam, Rockland, and Orange saw more than a foot of snow, and some spots in northern New Jersey also got within range of a foot. Close to 13 inches has fallen in Albany so far. Roads are closed and a travel ban is in effect in upstate Broome County, which includes Binghamton. That city could see close to 30 inches, and the National Weather Service reports that snow is still bearing down at the rate of two to four inches per hour in central New York:
Parts of New England could still get hammered, though it won't be as bad as first predicted in many parts. Boston may get just shy of a foot, though the city's public schools will remain closed Wednesday. Parts of Vermont could get up to 22 inches.
The Washington, D.C., metro area got a couple of inches, and the federal government opened after a morning delay. Luckily, President Donald Trump was on top of it.
And though the blizzard went bust in New York City, it still looked pretty nice for awhile:
Eh, maybe not:
Wednesday's forecast: Slush puddles.
This post has been updated throughout.