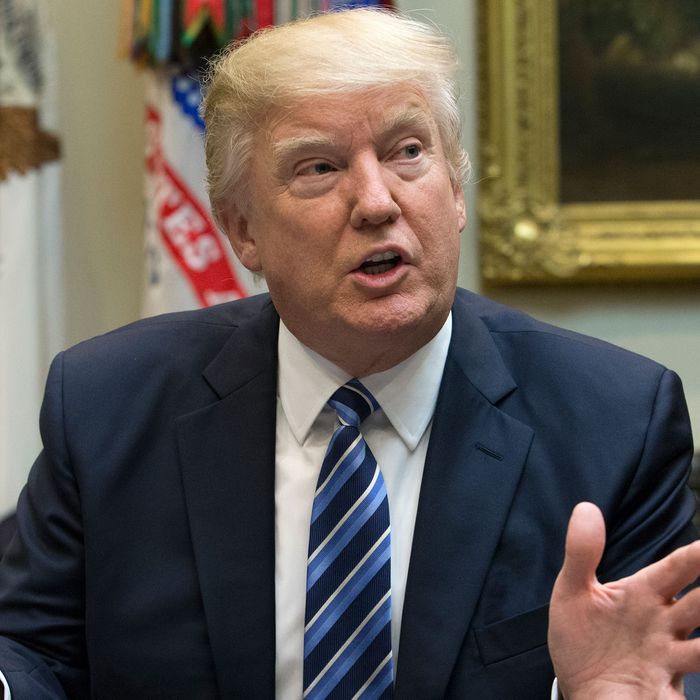 We're going to have the best swamp.
Photo: Pool/Getty Images
In Donald Trump's final campaign ad, the GOP nominee informed America that "those who control the levers of power in Washington" do not "have your good in mind," as a sign reading Wall St. flickered across the screen. Moments later, the chief executive of Goldman Sachs appeared, cast as an embodiment of the global elite that has "robbed our working class."
During his primary campaign, Trump suggested that Ted Cruz was a tool of Goldman, on the sole basis that his wife worked for the firm. And, of course, he savaged Hillary Clinton for delivering paid speeches to the Wall Street bank.
On Tuesday, the president nominated a fifth Goldman alum to a top position in his administration. Jim Donovan spent nearly a quarter-century at the great vampire squid, and was working as managing director of the bank's private wealth division, when Trump offered him the new gig at Goldman's D.C. branch.
The White House has already employed Goldman alums Steve Mnuchin at Treasury Secretary; Steve Bannon as chief White House strategist; Gary Cohn as director of the National Economic Council; and Dina Powell, as senior counselor for economic initiatives.
At Treasury, Donovan would work with Mnuchin on implementing Trump's economic agenda, including his proposed reforms (a.k.a. regressive cuts) to the corporate- and income-tax codes.
The financial industry is "relieved" by Donovan's nomination, which had initially been resisted by some in the West Wing, according to Politico. Donovan was a fundraiser for Mitt Romney and Jeb Bush, and is seen as an opponent of the trade protection and economic nationalism favored by Bannon and Trump's National Trade Council head Peter Navarro.