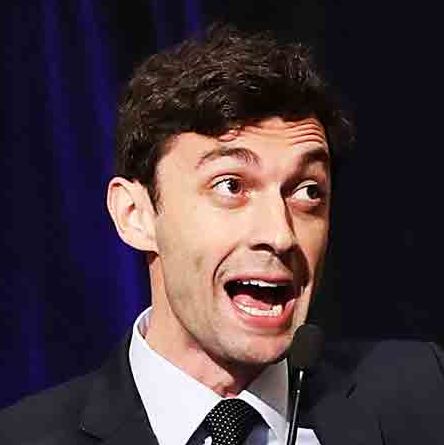 After yesterday's much hyped and heavily spun first round, Republican Karen Handel and Democrat Jon Ossoff will face each other in what should be a close June 20 runoff.
Photo: Getty Images
After a long, intensive (and expensive) campaign, and a maddeningly slow count (mostly thanks to a technical glitch that held up returns from the largest county in the district for hours) on election night, the first round of the special election in the sixth congressional district of Georgia to replace Tom Price is finally in the books. Democrat Jon Ossoff, who won 48 percent of the vote, and Republican Karen Handel, who won 20 percent, will meet in a June 20 runoff.
Since both parties are naturally engaged in mad spinning of the results, it is a good idea to get some facts established.
1) Jon Ossoff won a higher percentage of the vote than any Democratic congressional or presidential candidate in the sixth since it was established as a north Atlanta suburban district in 1992.
What makes that a bit hard to grasp is that the second highest percentage was posted just last year by Hillary Clinton, who won 46.8 percent. More typical were Barack Obama's 38 percent in 2012 and 40 percent in 2008. The last Democratic presidential candidate to carry Georgia as a whole, Bill Clinton in 1992, won just 29 percent in the sixth that year. No Democratic congressional candidate has topped 40 percent of the vote in this district since 1996. This history should be balanced against the fact that many Democrats convinced themselves Ossoff would win a majority in the first round, setting up expectations that were very difficult to meet.
2) Total turnout was more like a midterm than a special election.
192,000 votes were cast in yesterday's special election. That's close to the 210,000 votes the sixth in the 2014 midterm election. And that's very unusual. By comparison, 120,000 were cast in the Kansas's fourth congressional district special election — itself deemed a barn burner — last Tuesday, and 28,000 were cast in the California's 38th congressional districtspecial election on April 4.
3) Ossoff benefited from heavy ad spending — but so, too, did those opposing his candidacy.
That a political neophyte like Jon Ossoff could raise a reported $8.3 million, most of it in small-dollar donations from outside Georgia, is an amazing fact that should not obscure the equally important fact that pro-Republican outside groups running attack ads against Ossoff, and the Republican candidates themselves, enjoyed heavy financial backing as well. Ossoff reportedly spent $5.3 million on TV, radio and internet ads. Two national GOP groups (the NRCC and Paul Ryan's leadership PAC) spent a combined $3.9 million going after Ossoff. Karen Handel received $700,000 in ad support from the Ricketts family's Ending Spending PAC. The Club for Growth spent a half-million attacking her and backing its endorsed candidate Bob Gray. Fourth-place finisher Dan Moody spent about $2 million of his own money. The GOP claim that Ossoff was trying to "buy" the election on an uncontested wave of money is more than misleading: there's been plenty of money to go around.
4) As in the 2016 presidential election, Democrats dominated early voting, but did not do nearly as well among election-day voters.
Ossoff won 62 percent of the 55,000 in-person early votes cast before this special election. Had early votes constituted over a third of the total, as most observers expected, he would have won a majority and would be planning a move to Washington today. But Republicans won an estimated 58 percent of an elevated election-day turnout, and as was the case in several states last year, it appears Democrats were harvesting early votes that would have been cast for them in any event, not adding to their totals.
5) The runoff is not likely to be a gimme for Republicans — even though they seem to be treating it that way.
From Donald Trump on down, many Republicans are acting like the outcome last night was a victory for their party. And it was, to the extent that they avoided a definitive defeat. But despite the calculation of the Ossoff campaign that its best path to Washington was to win in the first round, the runoff is hardly going to be a cakewalk for Karen Handel, if only because Ossoff came so close to 50 percent (a formula created by Nate Silver suggests a virtual toss-up on June 20). While there is undoubtedly a history of Democrats doing poorly in low-turnout two-party runoffs in Georgia, the precedent mostly involves statewide races where Democrats depend heavily on minority voters who are less likely to turn out in unusually timed elections. There is no inherent reason the relatively upscale Ossoff voters of the sixth will be less likely to show up on June 20 than on April 18; both elections are "special." The biggest threat to Ossoff's campaign may well be donor and volunteer fatigue, along with the fact that with each passing day competition for support and media attention will gradually rise.
6) Republican Karen Handel has both strengths and weaknesses as a runoff candidate.
GOP survivor Karen Handel, to her considerable credit, led the Republican field from beginning to end despite being the target of multiple attack ads and not exactly showing much momentum. Her political base is in North Fulton County, where about half the vote in the sixth is cast; she carried the district in both of her unsuccessful statewide races (for governor in 2010 and the Senate in 2014). But she showed poor fundraising skills in those losses. Perhaps the oddest thing about Handel is her national reputation (based almost entirely on the highly publicized 2012 incident in which she was forced out of her job with the Susan G. Komen Foundation after cutting off its support for Planned Parenthood) as a right-wing culture-war zealot. Back home, where she has been a familiar political figure since becoming chairman of the Fulton County Commission in 2003, she has a much squishier ideological profile, and has repeatedly been attacked by Republican opponents as a big spender, a moral relativist, or worse. Her national reputation will help Ossoff raise money, while local doubts about her conservative bona fides could cause some problems in uniting and energizing Republicans.
7) It may be difficult for either campaign to match the intensity level of the first round of the special election.
Perhaps the safest thing to say about the special congressional election is that nobody in the district has experienced anything like it before. Georgia's sixth was previously a political backwater aside from the occasional competitive Republican primary. The state hasn't been seriously targeted in a presidential election since 1996. The gradually but consistently rising level of GOP dominance of Georgia politics has made competitive gubernatorial and congressional contests the exception rather than the rule. Now along comes a contest, seemingly out of the blue, that ace congressional-election analyst David Wasserman characterized as the "most overhyped" he had ever seen. National media aside, local-media attention and the paid-ad blitz was so massive that election officials reported an impressive number of people showing up to vote who did not realize they did not actually live in the sixth. What will happen when that level of attention abates, even if it's still at previously unknown levels? That's hard to say.
8) The results last night reinforce the sense that Republicans are in for a tough midterm challenge in 2018.
Special elections often predict future regular election cycles — except when they don't. But here's the thing: The historical record already indicates Republicans are in danger of significant losses in 2018, especially if the president's job-approval numbers stay as poor as they are at present. The two even vaguely competitive special congressional elections so far this year, in Kansas and Georgia, involving strong Republican districts, show a solid pro-Democratic trend. But there are many, many data points left to fill into the charts before making any assumptions about 2018 — other than, perhaps, that anti-Trump enthusiasm is indeed capable under some circumstances of offsetting what had become a disturbingly severe "midterm falloff" problem for Democrats. Beyond that, we will have to endure some additional election-night drama to understand the political dynamics just ahead.