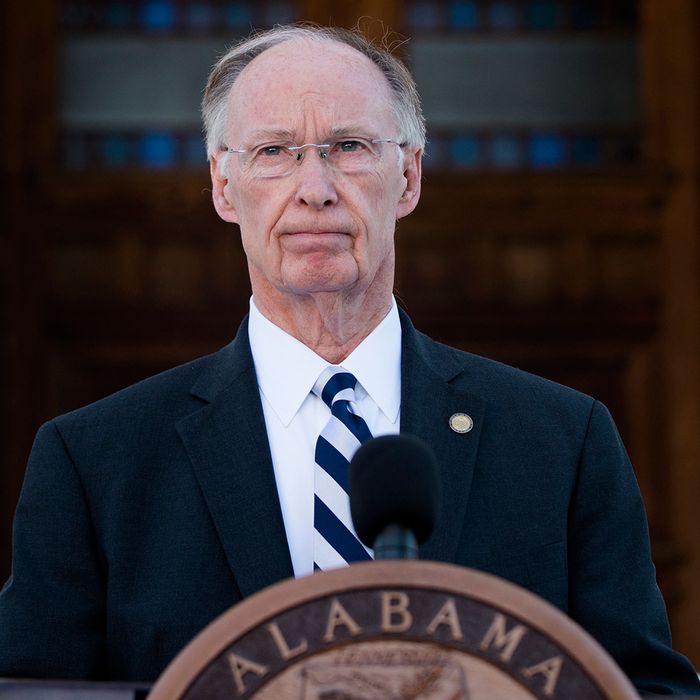 The storm clouds began gathering for Alabama governor Robert Bentley back in 2015, when his wife of 50 years sued for divorce. Now it seems like a deluge of evidence will finally force him from office.
Photo: Albert Cesare/The Montgomery Advertiser via AP
He's held off the hounds baying for his blood for a remarkably long time. Now, faced not only with impeachment, but also with the strong possibility of spending what's left of his golden years in one of his state's fine correctional facilities, Alabama governor Robert Bentley — also known derisively as the "Love Gov" — appears likely to accept a deal to resign, in exchange for being allowed to plead guilty to misdemeanors.
If you haven't followed the Bentley scandal, here are the basics: An allegedly (and apparently) sexual extramarital affair between the septuagenarian governor and a former communications staffer named Rebekah Mason became public after Bentley's wife of 50 years filed for divorce in 2015. A few months later, a state law-enforcement official who Bentley had fired released an audiotape (subsequently determined to have been made by the Alabama First Lady herself, on a hidden cell phone) of what sure sounded like a lubricious conversation between the governor and Mason. Various sleuths began looking into aspects of the relationship that might violate state as well as religious laws (Bentley is a Southern Baptist deacon who enjoyed strong Christian-right support in his two gubernatorial victories), and quickly found quite a few issues with Mason's compensation. As Bentley bobbed and weaved and refused to admit to impropriety, pressure to impeach him increased steadily in the Republican-controlled Alabama legislature.
Now with impeachment hearings fully underway, and the state Supreme Court quashing a lower-court restraining order to stop them, Bentley has been hit from two directions: by a special legislative investigatory report offering damning evidence of his malfeasance in pursuing and then trying to hide his relationship with Mason, and also a state ethics commission report that finds probable cause that Bentley committed four felonies, three involving campaign finance laws. And so: Bentley's lawyers are reportedly trying to cut a deal to keep their boss out of an orange jumpsuit. Legal maneuverings aside, Bentley has few defenders left; above and beyond the impeachment proceedings, the Alabama GOP has called for his resignation.
This saga will have no immediate partisan ramifications. Under state law, another septuagenarian, Lieutenant Governor Kay Ivey — a self-described protégé of the only woman to have served as Alabama governor, the late Lurleen Wallace (wife of George) — will fill any vacancy. But it's unclear whether she would be capable of placing the Bentley scandal in the rearview mirror, for her state or for her party.