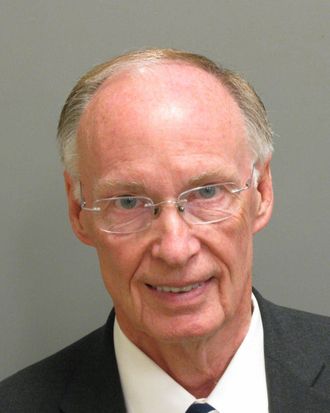 Governor Robert Bentley posed for this mug shot before resigning.
Photo: Montgomery County Sheriff's Office via Getty Images
Kay Ivey became Alabama's second female governor on Monday, under unfortunate circumstances. As predicted, Alabama governor Robert Bentley has stepped down following a sex scandal that dragged on for a year. The 74-year-old former Baptist deacon allegedly carried on an affair with a married top aide, 45-year-old Rebekah Caldwell Mason. Faced with impeachment and multiple criminal investigations, Bentley pleaded guilty on Monday to two misdemeanor campaign violations, then headed to the Alabama State Capitol to announce his resignation.
"There've been times that I let you and our people down, and I'm sorry for that," Bentley said, without mentioning the charges. He concluded by saying he appreciates all of the Alabamans who have told him they still love him, and are praying for him. "I love this state from the bottom of my heart, and the people who live here," he said.

The scandal began last March, when Bentley fired Alabama's top cop on the same day he told al.com that he was investigating text messages and audio recordings "of a sexual nature" between Mason and the governor. The next day, an explicit phone call was leaked to the media. It was later revealed that the recording was made by Dianne Bentley, the governor's wife of 50 years, who had filed for divorce the previous summer.
As Vox notes, that might have been it for the Republican governor, if Alabama wasn't such a solidly red state:
In a more closely contested partisan environment, it's possible that Bentley would have been pushed out much faster to avoid giving the gift of scandal to the Democratic opposition. It's also possible that he would have been able to rally GOP support behind him, arguing that the whole thing is a fundamentally personal matter that is being ginned up into a scandal by his opponents.
Instead, details of the alleged affair and Bentley's attempts to cover it up kept leaking, and the scandal only came to a head when Alabama's House Judiciary Committee released a 3,000-page report last Friday that alleged Bentley created "an atmosphere of intimidation" and pushed other state employees into covering up the relationship. "Governor Bentley directed law enforcement to advance his personal interests and, in a process characterized by increasing obsession and paranoia, subjected career law enforcement officers to tasks intended to protect his reputation," the report said.
Hours after impeachment hearings began on Monday, the state attorney general's office announced that it had made a plea deal with the governor. The office said it would not pursue felony charges against Bentley if he pleaded guilty to the misdemeanors and resigned immediately. He's also required to give up campaign funds totaling about $37,000 and perform 100 hours of community service in his capacity as a licensed dermatologist.
Kay Ivey was sworn in as Alabama's 54th governor on Monday evening. Ivey is well-known in Alabama, having served as the state's treasurer before being elected lieutenant governor in 2010 and again in 2014. She's the state's second female governor after Lurleen Wallace, wife of George Wallace, who was elected in 1966 and died of cancer 16 months later.
"The Ivey administration will be open, it will be transparent and it will be honest," the new governor said, to cheers and loud applause.