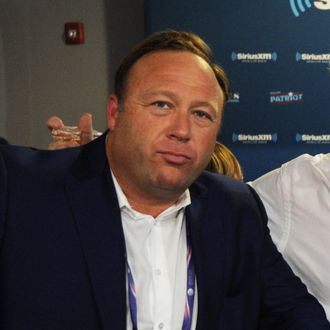 Alex Jones broadcasts from the 2016 Republican National Convention.
Photo: Ben Jackson/Getty Images for SiriusXM
Alex Jones isn't a conspiracy theorist who thinks "globalist" elites staged the Boston Marathon bombing, and Hillary Clinton and Barack Obama reek of sulfur because they are demons — he just plays one one the radio.
At least, that's what Jones's lawyer claimed in the custody battle over his three children, arguing that judging his client by his Infowars persona would be like evaluating Jack Nicholson's parenting skills by watching him play the Joker in Batman.
"He's playing a character," attorney Randall Wilhite argued at a pretrial hearing, according to the Austin American-Statesman. "He is a performance artist."
Over the next two weeks, a Texas jury will decide whether Jones's "performance" reflects who he is in private life, and whether that has any bearing on his fitness as a parent. His ex-wife, Kelly Jones, says there is only one Alex Jones, and his on-air persona is part of the reason that she should have custody of their children. Their 14-year-old son and 12- and 9-year-old daughters have lived with Alex Jones since the couple divorced in 2015.
"He's not a stable person," Kelly said. "He says he wants to break Alec Baldwin's neck. He wants J-Lo to get raped." She said she's concerned that by threatening Representative Adam Schiff, the top Democrat on the House Intelligence Committee, in a recent rant, her ex committed a felony. "He broadcasts from home. The children are there, watching him broadcast," she said.
During Wednesday's hearing, state district judge Orlinda Naranjo ruled that the jury could hear a clip from a July 2015 broadcast, in which Jones plays videos his son put together with the help of the Infowars team.
"He is undoubtedly cut out for this, and I intend for him to eclipse what I've done. He's a way greater person than I was at 12," said Jones, who then addressed his son. "I love you so much, and I didn't mean to get you up here, sweetheart, and tell people how much I love you, but you're so handsome, and you're a good little knight who's going to grow up, I know, to be a great fighter against the enemy."
Naranjo allowed two other clips from Infowars, but said the jury cannot hear the tirade in which Jones uses gay slurs against Schiff and threatens to "beat your goddamn ass, you son of a bitch."
"This case is not about Infowars, and I don't want it to be about Infowars," Naranjo warned the attorneys.