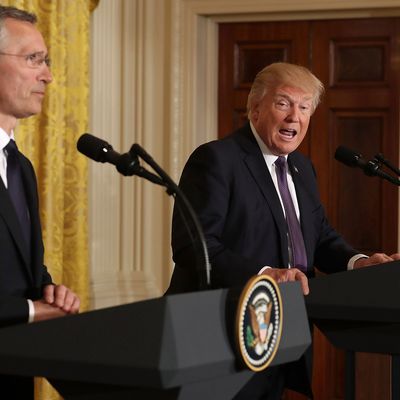 President Trump and his new BFF, NATO Secretary General Jens Stoltenberg.
Photo: Chip Somodevilla/Getty Images
President Trump had spent much of his first 83 days in office attempting to roll back his predecessor's initiatives. On Wednesday, he shifted focus and spent the day rolling back his own. Trump reversed course, flip-flopped, or reneged on at least five of his own promises and policy initiatives in one day. At least, that's how many we found.
1. Whether NATO is worth saving: After repeatedly declaring NATO "obsolete" as both a candidate and president-elect, Trump met with Secretary General Jens Stoltenberg Wednesday and came away with a new perspective. He likes NATO now because they made a "change," but experts say that change wasn't really much of a change at all.
2. Whether the federal government should hire new workers: On his third day as president, Trump signed an executive order freezing the hiring of new federal workers outside of the military. This was the fulfillment of a campaign promise to "reduce [the] federal workforce through attrition" and, presumably, a part of Steve Bannon's plan to "deconstruct the administrative state." On Wednesday, the freeze melted.
3. Whether the U.S. Export-Import Bank should exist: Candidate Trump on the export lending agency in August 2015: "I don't like it because I don't think it's necessary."
President Trump on the Export-Import Bank in April 2017: "It's a very good thing."
4. Whether China is a currency cheat: Labeling China a currency manipulator was supposed to happen on Trump's first day in office. Instead, on day 83, he told the WSJ, "They're not currency manipulators."
5. Whether Janet Yellen is a good Fed chair: In that same WSJ interview Trump softened his position on Fed chairwoman Janet Yellen. In May of 2016, he said he would "most likely replace her," and in September, during a debate, he said she should be "ashamed of herself." Now he says, "I like her, I respect her." As far as his future plans for her, he would only say, "It's very early."