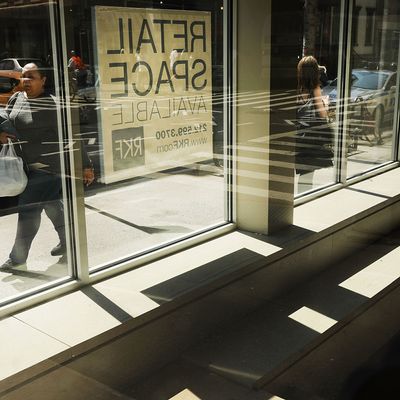 The state of economic growth is not strong.
Photo: Spencer Platt/Getty Images
The U.S. economy grew at its slowest rate in three years over the first quarter, as consumer spending saw its smallest increase since 2009 — but the slowdown is largely attributable to the unseasonably warm winter (which is, itself, quite likely attributable to the climatic changes that threaten the future of human civilization). So, we probably have nothing to worry about.
After growing at 2.1 percent in the fourth quarter of 2016 — and 3.5 percent the quarter before that — gross domestic product increased by a measly 0.7 percent over the first three months of this year. Consumer spending advanced at a piddling 0.3 percent, after growing 3.5 percent at the close of last year. That drop-off was driven by sharp declines in spending on home-heating fuel, gasoline, and clothes — just the things one buys less of during the second-hottest February on record. Separately, there was also a big falloff in car sales from a near-record high at the end of last year.
Disconcerting first-quarter growth numbers have become a sort of "new normal" in recent years, reflecting apparent flaws in the government's formula for seasonally adjusting its data (to keep everyone from freaking out about the decline in retail sales after Christmas, or about other seasonal swings in economic activity, the Commerce Department tries to smooth out those factors). Since 2000, the economy has grown over the first quarter by an average of one percent — over the other three quarters of the year, that average has been 2.2 percent, according to Wells Fargo Securities.
When one looks beyond Friday's GDP number, there remain plenty of signs of economic strength. Real personal disposable income grew at a 4 percent annualized rate over the first quarter. Consumer confidence is high, unemployment is low, and wages have been rising in recent months, even at the bottom of the income ladder.
The GDP report offered other good omens for near-term economic growth, including this bad omen for long-term human survival:
Oil and gas companies weren't the only ones ramping up investment in the fist quarter. Fixed business investment soared 10.4 percent. For much of the past two years, business spending has been a drag on U.S. growth; over the past three months, it accounted for nearly all of it.
So, there's reason to believe we'll see the GDP bounce back next quarter.
That said, Friday's low number offers a stark reminder: Booms don't last forever, and historical patterns suggest America is due for a downturn. So far, our new president has had the privilege of presiding over the strongest economy our nation has seen since the 2008 crisis. And his approval rating stands at 39 percent. Those two facts may not bode well for the prospects of Donald Trump's gross domestic popularity growth.