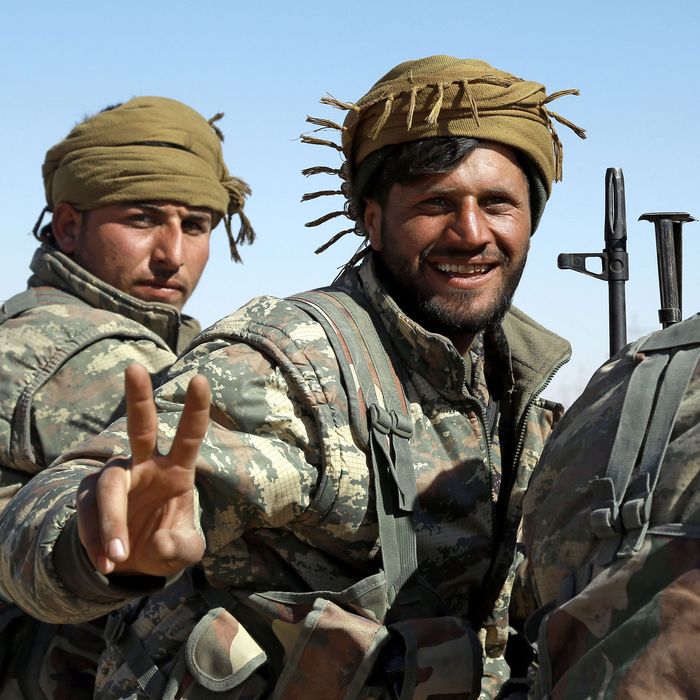 A member of the U.S.-backed Syrian Democratic Forces.
Photo: Delil Souleiman/AFP/Getty Images
The U.S.-led coalition in Syria mistakenly killed 18 members of an allied force on Tuesday in what U.S. Central Command is calling a "misdirected strike."
The strike in Tabqah, Syria, was ordered by partner forces on the ground who believed that ISIS fighters had taken up the location. They were wrong: The strike ended up hitting fighters from the Syrian Democratic Forces, an alliance led by Kurds that has been fighting ISIS alongside the U.S.
"The Coalition's deepest condolences go out to the members of the SDF and their families," U.S. Central Command said in a statement. "The Coalition is in close contact with our SDF partners who have expressed a strong desire to remain focused on the fight against ISIS despite this tragic incident."
Tuesday's incident comes as SDF fighters prepare for an assault on Raqqa, Syria, the ISIS capital located 25 miles northeast of Tabqah. With the help of the U.S.-led coalition, the SDF is attempting to isolate the city by taking control of surrounding territories. "We aim to liberate dozens of villages … and clear the last obstacles in front of us to pave the way for the operation to liberate Raqqa city," an SDF statement said. Though the group had previously said the assault on Raqqa would begin this month, that schedule has been delayed.