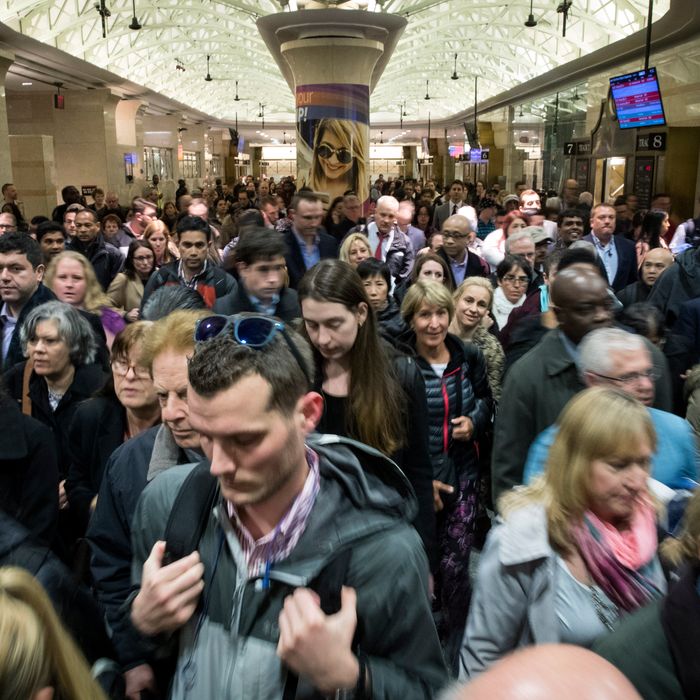 The scene in Penn after a derailment on April 4.
Photo: Drew Angerer/Getty Images
In recent weeks, trains running through Penn Station have experienced a number of derailments and equipment malfunctions, causing days-long delays on the Long Island Rail Road and New Jersey Transit. On Tuesday, as wire problems in an East River tunnel led to another hellish evening commute, riders learned that scenes like this may become the norm in Penn Station:
Amtrak, which owns the station, said on Tuesday that it's developing an infrastructure repair plan that could cause extensive delays and route changes on the LIRR and NJ Transit.
Amtrak said the plan will "result in some delays and cancellations," but would not say exactly how long the repairs could take.
"This renewal effort will replace and rejuvenate the selected infrastructure, providing needed updates, and is different than the ongoing repair work" at Penn Station, said spokeswoman Christina Leeds. "We'll have more on the plans in the coming days and will be working with L.I.R.R. and N.J.T. to schedule this work and minimize service impacts."
The New York Times reports that the plan may include closing multiple tracks at Penn Station for days or even weeks at a time. Currently, most repairs are done at night or on weekends, but Amtrak officials are said to feel the situation has become so dire that they must disrupt commuters to prevent more dangerous derailments.
Officials from LIRR and NJ Transit, which lease the tracks in Penn Station, have complained that their riders are always hit hardest by track problems, and they have even suggested that they might sue Amtrak over the condition of the rails. They said Amtrak has yet to fill them in on their plans for repairs in the coming months.
"It's imperative that NJ Transit see Amtrak's plan to review its impact on our customers and the region's economy," said spokeswoman Nancy Snyder.