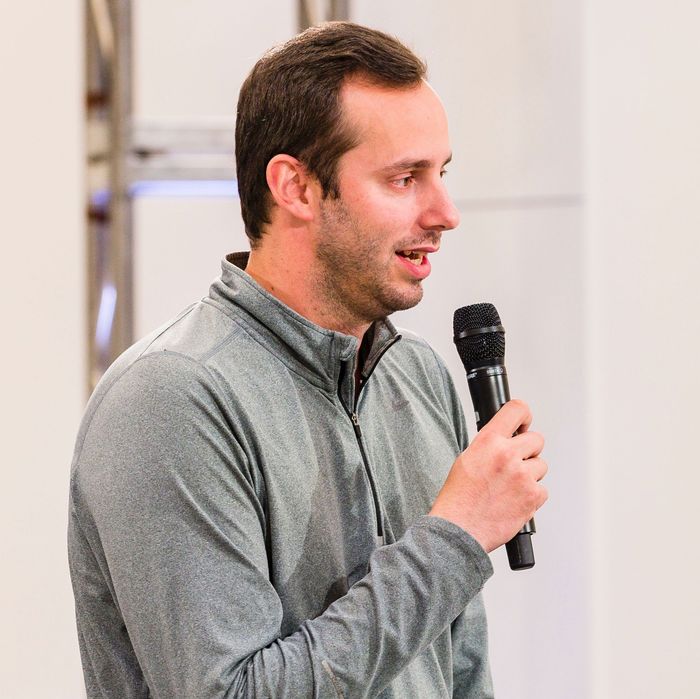 Anthony Levandowski.
Photo: Angelo Merendino/AFP/Getty Images
Google's self-driving car company, Waymo, is currently suing Uber for allegedly stealing technology. At the heart of the case is former Google engineer Anthony Levandowski, who left Google and Waymo to found Otto, a self-driving truck company which Uber would later buy. According to the suit, Levandowksi allegedly stole data and documents from Google in January 2016, trade secrets which he would later hand over to Uber post-acquisition. Today, Business Insider reports that Levandowski is stepping down from his role as head of the company's self-driving unit. He will, however, remain at Uber in other capacities.
Levandowski will be replaced by Eric Meyhofer, who will head up Uber's Advanced Technologies group, BI also reports. The change was announced internally via an email from Levandowski.
From Levandowski, via Business Insider:
Team:
I want to let you know that Travis and I have decided that I will be recused from all LiDAR-related work and management at Uber, through the remainder of the Waymo litigation. This change means that Eric Meyhofer will be the head of ATG, reporting to Travis, and I will report to Eric. My other responsibilities will not change.

As you know, I currently don't provide input on detailed LiDAR design choices. But making this organizational change means I will have absolutely no oversight over or input into our LiDAR work. Going forward, please make sure not to include me in meetings or email threads related to LiDAR, or ask me for advice on the topic.

We all know the hard work that Eric, James and the LiDAR team have put into independently developing our technology over the past few years.

We should all be proud that our self-driving technology has been built independently, from the ground up. With this move, I hope to keep the team focused on achieving the vision that brought us all here.

Thanks,
Anthony
The Waymo-Uber lawsuit is ongoing. Levandowski recently invoked the Fifth Amendment in an attempt to avoid incriminating himself. A court of appeals later ruled against this plea, as Waymo is requesting information from Uber, not from Levandowski personally. Up next, a ruling on a preliminary injunction in May which would stop Uber from using any of the reportedly stolen tech.