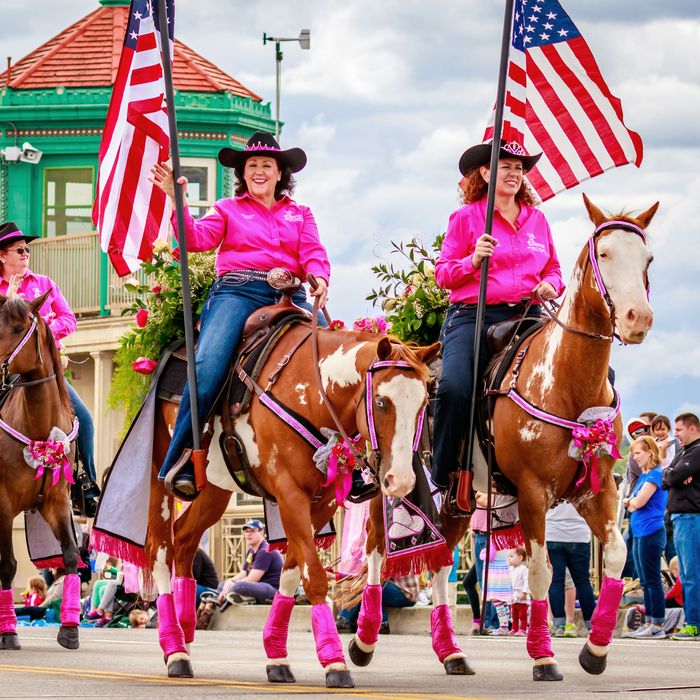 40-Something Cowgirls in the Grand Floral Parade during Portland Rose Festival 2016.
Photo: Peng GE/Getty Images
The city of Portland, Oregon, is hosting its annual Rose Festival, an event that usually entails a parade billed as "a multicultural event, complete with bands, community members, government officials, schools, classic cars."
But this year, the popular and anodyne Avenue of Roses Parade has been scuppered over safety concerns, after violent protesters threatened to disrupt it. The ire of local leftist groups was seemingly raised because the Multnomah County Republican Party was slated to march, as it has done in the past. Two "anti-fascist" groups had announced plans to protest GOP participation, but things escalated after campaign organizers received an anonymous email threat. The message said rioters would shut down the parade if the Republicans attended, reports the Oregonian. To avoid violence, organizers decided to call off the event.
"You have seen how much power we have downtown," the anonymous email said, "and that the police cannot stop us from shutting down roads so please consider your decision wisely."
"This is non-negotiable," the message warned, adding that otherwise, protesters would rush the parade and "drag and push" those marching with the Republican Party.
The parade organizers reportedly made the decision after meeting with police, who said they could not provide additional security to the marchers or attendees. A petition circulated Wednesday to bring back the event, reports the Washington Post, but the organizers aren't budging. "Our official position is we're extremely sad about this," a spokesman for the Rose Festival Foundation told the Oregonian.
The two groups who had originally planned to protest — Direct Action Alliance and Oregon Students Empowered — disavowed the email, but also refused to back down on their protest. Direct Action Alliance released a statement that claimed "known members of neo-nazi and anti-immigrant hate groups planned to attend," adding that "no Portland child will see a march in support of this fascist regime go unopposed."
The Multnomah County Republicans, which planned to keep marching had the parade gone forward, wrote a letter urging the city and police to investigate, pointing out that "differences in opinion we may have … do not begin to constitute hateful rhetoric, much less offer any excuse for discarding American traditions of political participation and First Amendment protections." In a later statement, the party chair said its members were disappointed in the cancellation, and that the "Multnomah County Republican Party is not composed of 'Nazis' and 'white supremacists' and those who think we would tolerate marching in a parade with folks carrying swastikas are delusional."
The 82nd Avenue of Roses Parade started in 2007, according to the Oregonian, and was an attempt to rehabilitate the neighborhood's image, which had a reputation for being a rough and crime-ridden area.