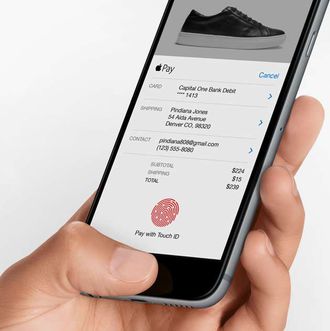 Apple is reportedly working on a mobile-payments service like Venmo, hoping to make its Apple Pay system useful as a way to transfer money between individuals, rather than just as a payment service. According to Recode, the company has been talking to its partners (mostly banks) about introducing some sort of option, which a source said could be announced as soon as later this year.
Venmo is popular, especially among young, urban residents, as a way to pay friends back for things. Apple Pay, while available in many places, hasn't caught on as a payment option as much as Apple would like it to.
In Apple's proposed setup, according to the report, the company might issue users digital debit cards tied to the service: "People would be able to use the Apple cards to spend money sent to them through the new service, without having to wait for it to clear to their bank account." The goal then wouldn't be to charge a fee for each peer-to-peer transaction, but to encourage users to also make purchases with the card, for which Apple does charge a fraction of a percentage.
Apple joining the peer-to-peer payment space wouldn't be too much of a surprise. Facebook and Google already have money-transfer options built into messaging services like Messenger and Gmail, respectively. Baked into iMessage, people might just find a use for Apple Pay.