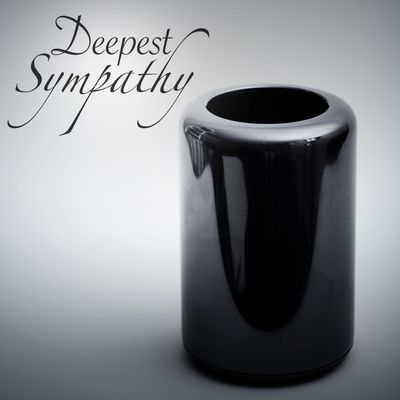 Photo-Illustration: Getty Images
It's safe to say that among the class of Mac users who use their machines for professional reasons, there's been some angst. Apple's latest line of MacBook Pros, even with a goofy DJ demonstration on the touch bar, failed to move many, leading to a cottage industry of advice for people who need to use laptops for actual processor-heavy work (video editors, graphic designers, developers) about what PC laptop they should switch to.
There was even more grumbling that Apple's presentation in October simply failed to mention its three desktop options: the erstwhile high-spec Mac Pro, the iMac, and the Mac Mini. It's now been 1,202 days since the Mac Pro has seen any sort of update, and over 700 since the iMac desktop has seen anything as well. With pro users actively fuming, Apple clearly thought it had to do something. So it did what it almost never does: It admitted its mistakes, and did an apology tour with a group of journalists invited to the Apple campus.
Matthew Panzarino of TechCrunch, Lance Ulanoff of Mashable, Ina Fried of Axios, John Paczkowski of BuzzFeed, and John Gruber of Daring Fireball were all invited deep inside the guts of the Apple campus — right to the room where prototypes are machined into existence — for a sit-down with Apple bigwigs Phil Schiller, Craig Federighi, and John Ternus, along with top PR hand for Apple, Bill Evans. The subject: Apple would refresh the Mac Pro at some point in the future (all Apple would say on the record is "not this year"), and the iMac will see a complete refresh later this year.
"This is an unusual thing, to get together like this," said Schiller to those in attendance. "This is in between product announcements. There's no black drape that's going to come off something right now. That's not why we're here."
Instead, Schiller wanted to emphasize that Apple is still actively courting what it considers the "pro" market. John Gruber quotes him extensively:
As we've said, we made something bold that we thought would be great for the majority of our Mac Pro users. And what we discovered was that it was great for some and not others. Enough so that we need to take another path. One of the good things, hopefully, with Apple through the years has been a willingness to say when something isn't quite what we wanted it do be, didn't live up to expectations, to not be afraid to admit it and look for the next answer.
The meeting itself was light on actual breaking news. It's been well-known that new iMacs were coming this year. News that Apple will update the Pro is welcome news to those who have limped along on a device that hasn't seen a real update in 1,202 days, but that update (not counting the small updates Apple will release for the Pro later this year) could still be years away. The one bit of actual, real news: The Mac Mini is probably dead.
The Mac, whether in laptop or desktop form (Apple says it currently sells about 80 percent laptops and 20 percent desktops), is a relatively small part of its overall business. Its quarterly earnings reports show how much the iPhone has come to dominate its revenue stream. It could quietly stop making computers altogether and only lose 10 percent of its overall revenue.
And during the meeting itself, Apple said only about 30 percent of its Mac users use "pro" applications — that is, programs that require the beefy specs that have been lacking from its desktop lineup for a while.
So, only a minority of its users of an already-small part of its overall business would care about seeing a new Pro. But Apple still thought it was worth it to gather five journalists together to reassure them that it is still designing for that market, that changes are coming, and that it knows it's messed up and is going to fix it.
This out-of-character meeting obviously shows Apple's own anxiety about losing the pro consumer. Microsoft and other PC manufacturers are aggressively releasing their own desktops and laptops that promise the beauty of an Apple computer, with higher specs or more interesting form factors than what Cupertino currently sells.
But Apple's laptop and desktop brands are still based around this value proposition: Pay more for our machines because the beauty and simplicity of our OS allow you to be more creative. This mantra — "think different," and everything it implies — necessitates that top-end creative professionals keep the love for the Mac that many have held for decades. And if that means doing a small "mea culpa" in front of a group of sympathetic journalists, well, it's a small price to pay overall.