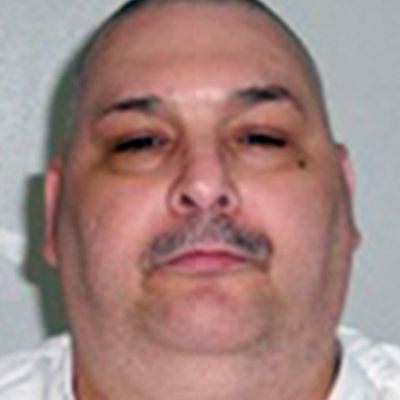 Jack Jones, left, and Marcel Williams.
Photo: AP
On Monday night, Arkansas executed two convicted murders back-to-back, making it the first state to carry out two executions in one day since Texas did it in 2000.
The executions of Jack Jones Jr., who died at 7:20 p.m., and Marcel Williams, who died at 10:33 p.m., came amid a flurry of legal challenges. Arkansas had planned to execute eight inmates in ten days because its supply of midazolam, a sedative used in lethal injections, is expiring at the end of the month. Four of the executions were blocked by the courts, and Ledell Lee was put to death last week. Another execution is set to take place on Thursday.
Attorneys for both men had sought stays on the grounds that their medical conditions might interfere with the three lethal-injection drugs, making their deaths extremely painful. Their appeals went all the way to the Supreme Court, but were rejected on Monday afternoon.
Williams's execution was delayed at the last minute by a federal district judge after his attorneys argued that Jones's execution was "torturous." In their motion they claimed that corrections officials spent 45 minutes unsuccessfully attempting to insert a central line into Jones's neck. They said the officials then failed to wait five minutes to ensure he was unconscious, and Jones was still "moving his lips and gulping for air."
Two journalists who witnessed the execution said Jones's lips only moved briefly shortly after the sedative was administered. Judge Kristine Baker lifted her stay and Williams was executed more than an hour later than scheduled.
Both men were convicted two decades ago, and admitted to their crimes. In 1995, Jones raped, beat, and strangled Mary Phillips, who was 34. Before killing her, he beat her 11-year-old daughter so badly that police thought she was dead when they arrived on the scene.
"This evening, Lacey Phillips Manor and Darla Phillips Jones have seen justice for the brutal rape and murder of their mother, Mary Phillips," said Arkansas attorney general Leslie Rutledge. "The Phillips family has waited far too long to see justice carried out, and I pray they find peace tonight."
In 1994, Williams kidnapped, raped, beat, and strangled Stacy Errickson after forcing her to take cash from an ATM at gunpoint. Errickson, who was 22 at the time, was a mother of two living at the Little Rock Air Force Base while her husband served overseas.
Williams did not have any last words. Jones apologized to his victims' families. "I hope over time you could learn who I really am, and that I am not a monster," Jones said.