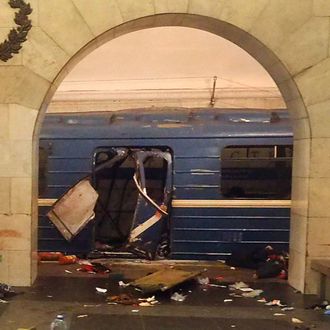 A picture shows the damaged train carriage at Technological Institute metro station in St. Petersburg on April 3, 2017.
Photo: STR/AFP/Getty Images
An explosion in the St. Petersburg, Russia, metro has left at least eleven people dead and more than three dozen injured. Early reports suggested that twin blasts had caused the carnage, but now it appears that the train was between stations when the explosion erupted.
The blast went off near the Sennaya Ploshchad station, according to state-run media, around 2:30 p.m. local time as the train was pulling out of the stop and headed toward the Technology Institute station. The bomb, full of shrapnel, exploded in the third car of the train, reports the New York Times. These stations are busy transit hubs, though were not as packed as they could have been had the blasts gone off during the rush-hour peak. All other metro stations in St. Petersburg, Russia's second-largest city, were shut down after explosion. Officials also amped up security in Moscow in response.
Russia's National Anti-terrorist Committee said another undetonated explosive device had been found within the subway system and dismantled, reports CBS News.
Graphic images on social media revealed mangled train cars and people sprawled out on the train platform, apparently in the aftermath of the blast.
The Russian prosecutors have called the explosion a "terrorist attack," but it is still early in the investigation. Russian president Vladimir Putin was reportedly in St. Petersburg for a meeting with Belarusian president Alexander Lukashenko at the time of the explosion. He said it was "too early to say" what caused the explosions, but suggested it could be a criminal or terrorist act.
This post has been updated throughout.