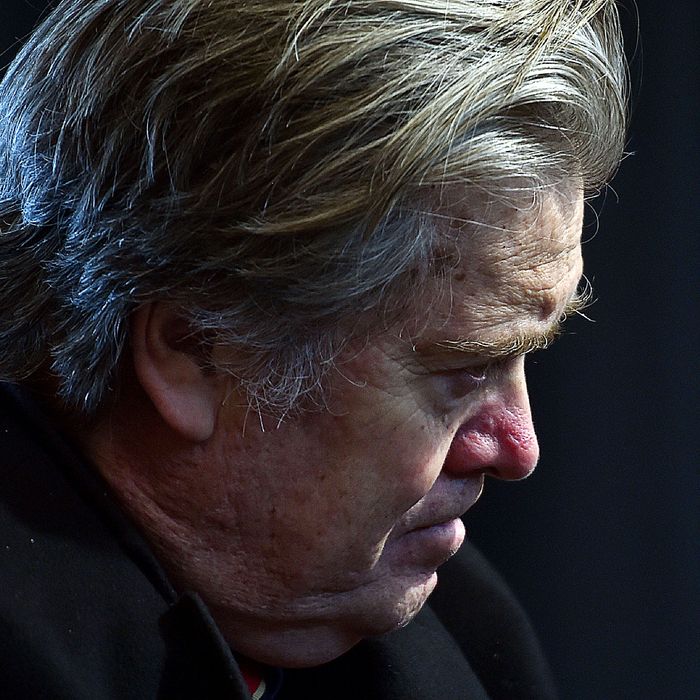 Darkness is bad.
Photo: Nicholas Kamm/AFP/Getty Images
On Wednesday, Trump reorganized his National Security Council, removing his chief strategist, Steve Bannon, and returning National Intelligence Director Dan Coats and chairman of the Joint Chiefs of Staff Joseph Dunford to their previous status as "regular attendees" of the NSC's principals committee.
The shake-up also reduced the authority of Homeland Security Adviser Tom Bossert, according to Bloomberg. Now, National Security Adviser H.R. McMaster will be empowered to set the agenda for meetings of both the NSC and Homeland Security Council.
McMaster became national security adviser after Trump's original pick for that position, Michael Flynn, was forced to resign. The lieutenant general brought a more conventional (a.k.a. less heinously Islamophobic) outlook to the council. Early in his tenure, he advised his staff against using the phrase "radical Islamic terrorism," thereby raising the eyebrows of the body's Bannonites.
A power struggle reportedly ensued, with Bannon trying to purge the NSC's staff of Obama holdovers and suspected globalists. It's unclear whether McMaster ultimately won this internal tussle, or if Bannon was bounced for other reasons.
It's also far from certain that Bannon will no longer have the power to shape American foreign policy. He remains the White House's chief strategist, and thus retains his proximity to the president's ear.
Regardless, the New York Times' Max Fisher argues that the Breitbart mastermind's demotion will strengthen the NSC.